Nestled in the scenic Litchfield Hills region along the New York border, the charming town of Kent is a promising vacation destination. This modest rural community, with a population of just over 3,000, is known for its unique history, picture-perfect landscapes, and delightful outdoor adventures, making it one of the most beautiful towns in Connecticut to visit.
Founded in 1739, Kent boasts a rich history that can be seen in its covered bridges and interesting museums. Add this to the lush wildernesses with cascading waterfalls and endless hiking trails, fishing spots, and camping sites surrounding it, and newcomers get a bag of adventures with something for all types of travelers.
Whether looking to venture into the outdoors or remain within four walls, this hidden New England gem does not disappoint.
Things To Do In Kent
A fantastic escape from the rigors of big cities like New York and Jersey City, less than 80 miles away, Kent offers some of the coolest things to do in Connecticut. Here are the best ways to spend time in the adorable little town of Kent.
Related: 10 Things To Do In Hartford: Complete Guide To Connecticut's Capital
1
Walk Through The Historic Bull's Bridge
Bulls Bridge in Kent, Connecticut. One of three surviving covered bridges in Connecticut.
At Bull's Bridge, tourists will witness one of Connecticut's few remaining covered bridges. This historical landmark was built in 1842 and spans approximately 110 feet across the Housatonic River. It was listed on the National Register of Historic Places in 1972.
Besides its historical appeal, Bull's Bridge is surrounded by stunning waterfalls and rapids and boasts spectacular river views. It is an idyllic nature spot with a calm, serene atmosphere perfect for relaxing and unwinding.
Bull's Bridge remains in use and only allows traffic in one direction at a time. However, travelers who want to use it should be careful due to the limited space.
2
Chase Waterfalls At Kent State Falls Park
Beautiful Waterfall at Kent Falls State Park in Connecticut
This cozy outdoor space in the state's northwest corner embodies New England's natural beauty. Kent State Falls Park is home to five gorgeous waterfalls that always leave first-timers in awe. Vacationers can take a lazy stroll along the quarter-mile-long path running along the falls, pausing at the many viewpoints to take advantage of the exquisite photo opportunities.
Although swimming is not allowed, guests can sit on available picnic tables and grills to grab a quick snack while soaking in the sumptuous scenery.
Admission: Parking is $15 (weekends/holidays), $10 (weekdays)
Hours: 8 am – 8 pm
Kent Falls State Park has several picturesque hiking trails, so visitors can pack hiking essentials and bring their canine companions for a walk; just make sure that they are leashed.
3
Check Out The Connecticut Antique Machinery Association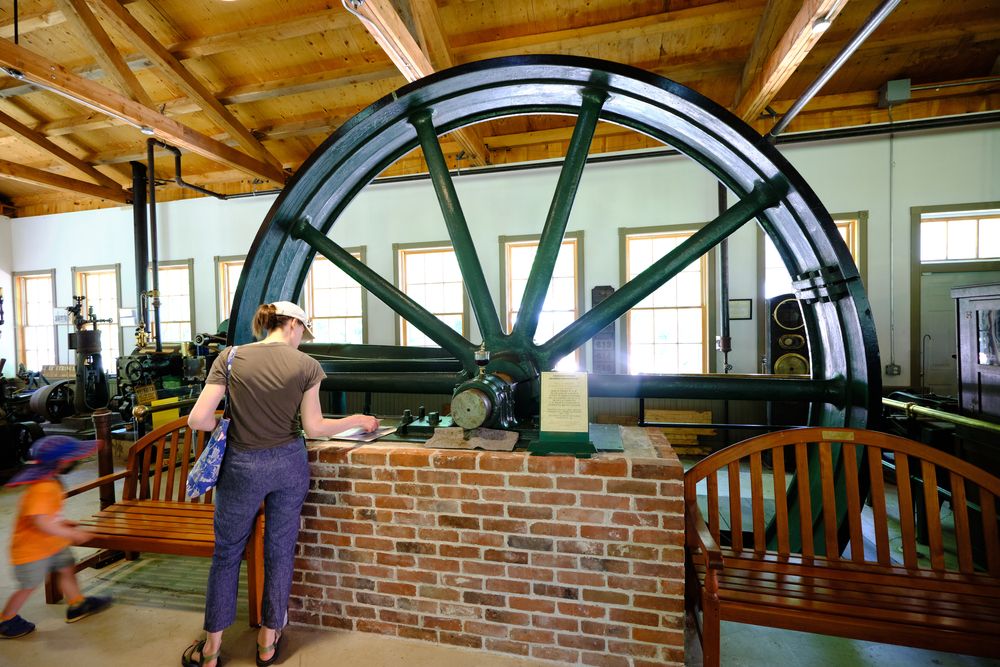 Kent, Connecticut, USA. A visitor examines a display at the Connecticut Antique Machinery Association.
Step back to the bygone eras at the Connecticut Antique Machinery Association, which displays various relics offering a glimpse into the region's mining past. This non-profit museum is operated solely by volunteers to preserve the legacy of the antique machinery in fostering the town's and surrounding area's development.
The exhibits range from tractors and mining equipment to steam engines and natural steam units, providing visitors with a snapshot of the evolution of machinery. Besides the exciting displays, guests will fall in love with the dedication and energy of the volunteers at the center.
Admission: Entirely by donation
Hours: Wednesday to Sunday, 10 am – 4 pm
Those visiting in spring or fall should attend the outdoor festival at the museum, which brings residents together to enjoy a wholesome meal and showcase antique machinery of their own.
4
Get Adventurous At Macedonia Brook State Park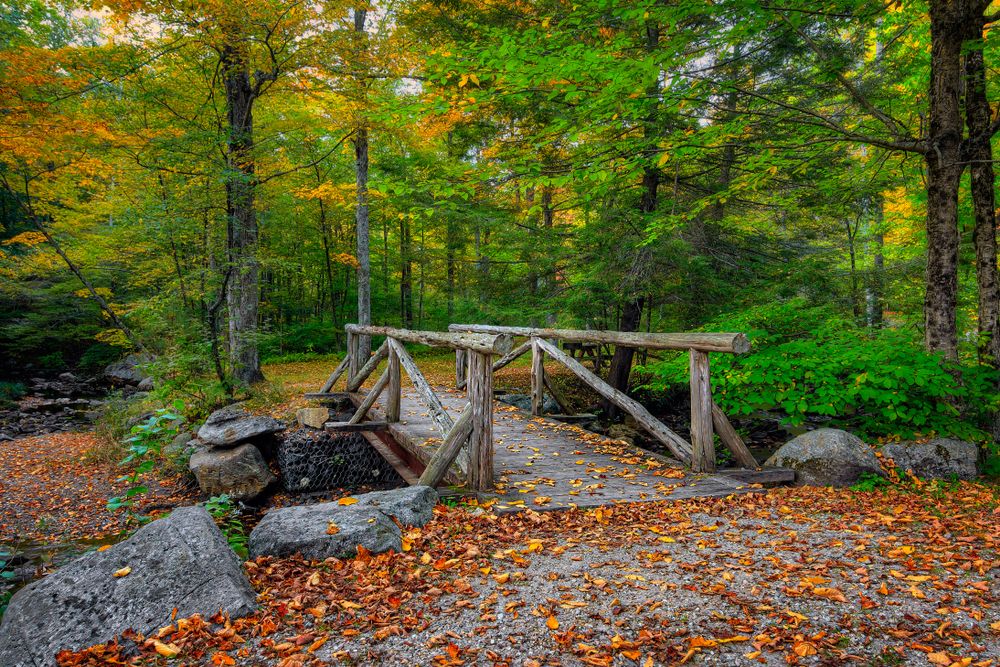 Early Autumn at Macedonia Brook State Park in Kent, Connecticut, USA.
The ultimate playground for outdoor enthusiasts, this vast wilderness straddles at least 2,300 acres and harbors an endless list of exciting adventures. Hiking is the most popular pastime at the park, with the Macedonia Ridge Trails offering one of the most scenic hikes in Connecticut. It traverses multiple mountain peaks, spoiling hikers with sweeping vistas of the lush surrounding landscapes.
However, more adventure awaits! The park's brook offers an adorable spot for fishing and picnicking, with grills and tables available to visitors. Macedonia Brook State Park also houses 51 campground sites equipped with drinking water for those looking for a complete outdoor experience.
Admission: Free
Hours: 8 am – 6 pm
Camping fees at the Macedonia Brook State Park are $24 per night. Remember to book reservations in advance.
5
Sample Local Craft Beer At Kent Falls Brewing Company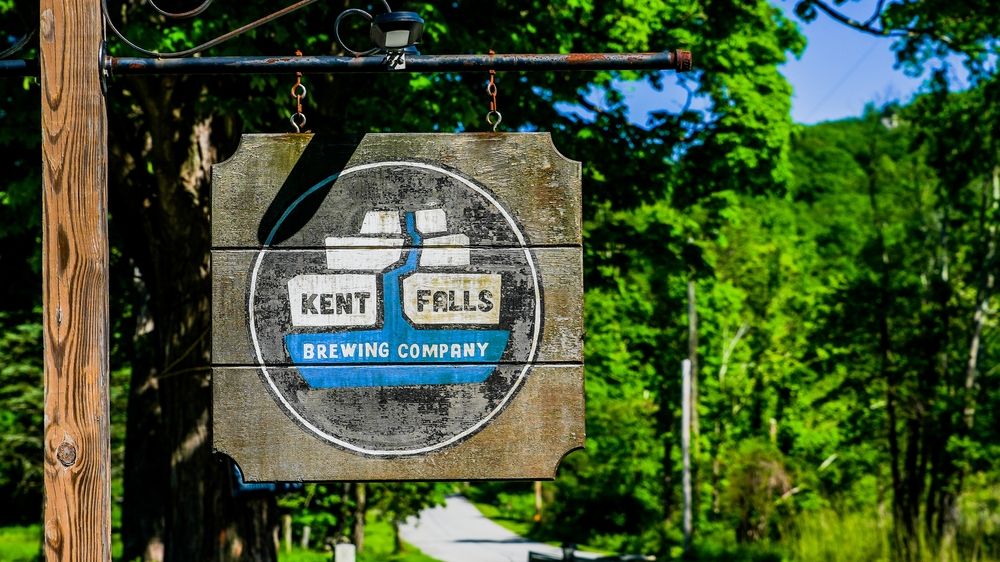 KENT, CT, USA: Sign for Kent Falls brewing company
Kent Falls Brewing Company is located on the sprawling Camps Road Farm and uses the hops grown on the farm to produce unique and great-tasting beer. Although tourists can find this at shops, bars, and restaurants throughout the town, nothing beats the experience of tasting it at the source.
Guests can also enjoy a tour of the facility, which includes a brewery, workshop, and tasting room, and witness the process that goes into creating the fine brew. Apart from the brewery, they will also experience the 50-acre farm, which raises poultry and pork and plants hops and cider.
Admission: Free
Hours: Thursday & Friday (2 pm – 7 pm), Saturday & Sunday (1 pm – 6 pm)
Farm tours are only held in the summer and on Saturdays at 2 p.m. The tours last about 20 minutes with no charges.
6
Explore The Town On Two Wheels With The Bicycle Tour Company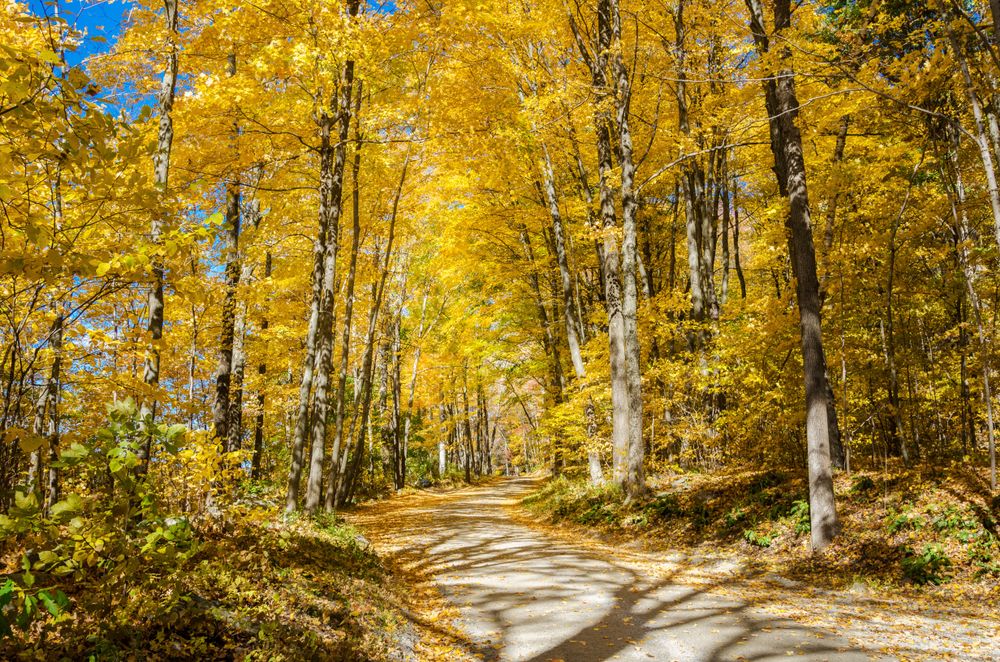 Winding Road Through a Golden Forest on a Sunny Autumn Day. Kent, CT.
Riding enthusiasts looking to discover Kent on a bicycle can reach out to the Bicycle Tour Company for a remarkable adventure. The company, based in the heart of the town, provides vacationers with quality bike rentals and professional-guided expeditions tailored to all ages and riding experiences.
A van will escort those who opt for a guided tour, taking them past all the best spots in the town. But for tourists who prefer to go alone, the company offers self-guided tours that allow them to customize their experience. Bicycle Tour Company operates annually and can schedule a tour anytime upon customer request and reservation.
Take advantage of group discounts by booking a tour with family or friends.
7
Admire The Artwork At Sculpturedale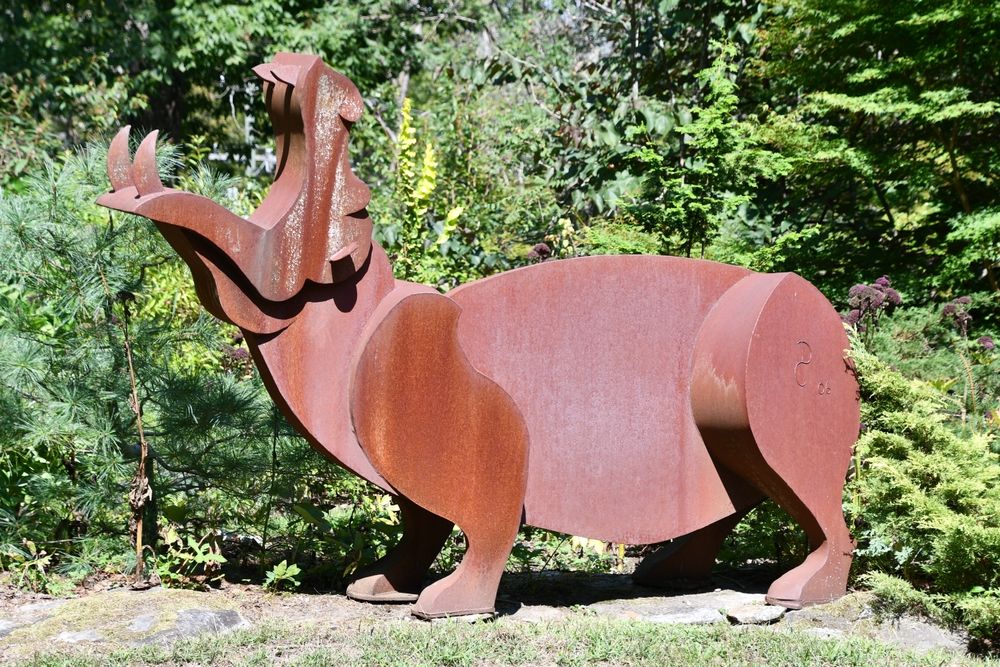 KENT CT: Sculpturedale, studio and gallery of sculptor Denis Curtiss, in Kent, Connecticut
Art enthusiasts should visit Sculpturedale, an exciting gallery and studio by Denis Curtiss. Located a short distance from Kent Falls State Park, the gallery comprises outdoor exhibits made of steel that visitors can scope regardless of weather.
These adopt interesting themes, from Connecticut's wildlife and Africa's big five to human dancers and pets.
Each piece oozes a unique vibe, and scoping out the over 100 intricately sculptured pieces allows guests to appreciate the creative process of creating the pieces. The gallery sits on a 3-acre property with well-manicured gardens, culminating in a peaceful and tranquil setting ideal for absorbing art.
Admission: Free
Hours: 10 am – 4 pm
8
Uncover The Town's Past At The Kent Historical Society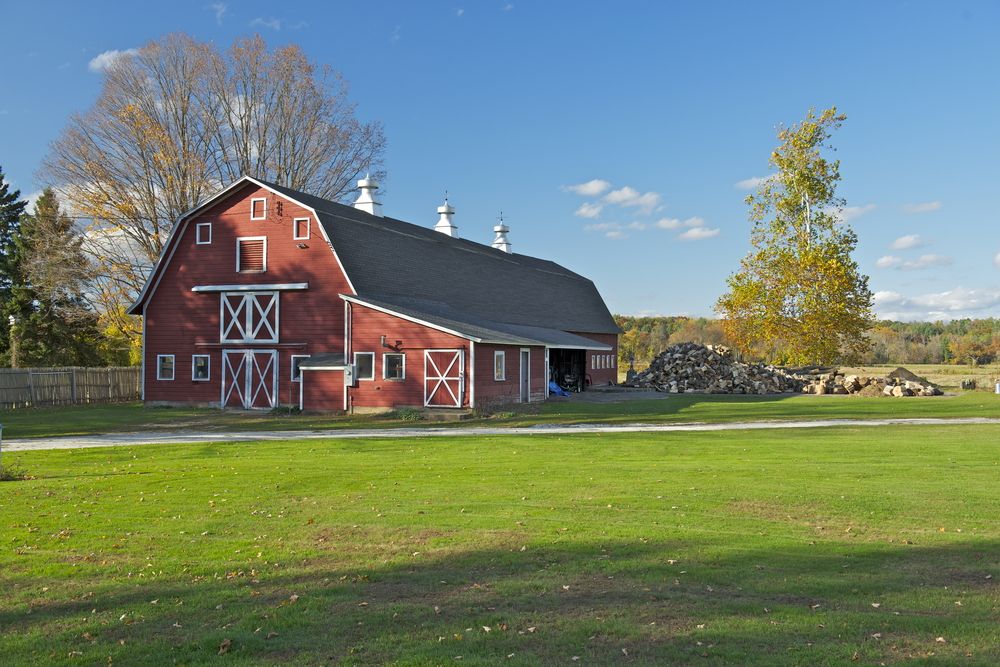 A beautiful American Farm, Kent, Connecticut, USA
Thanks to dedicated community involvement, the Kent Historical Society serves to preserve and share the town's storied history. This non-profit body lets travelers glimpse the past through the well-preserved historic home, Seven Hearths.
Initially constructed in 1751, the structure has been reconstructed multiple times and houses medieval furnishings.
Today, the public can access the house museum to witness how the then residents of Kent used to live and inspect captivating exhibits that rotate every year.
Admission: Free
Hours: Tuesday & Friday, 9 am -12 pm
The Kent Historical Society house museum is only open in the summer, although vacationers can request private tours any time of the year.
9
Engage The Mind At House Of Books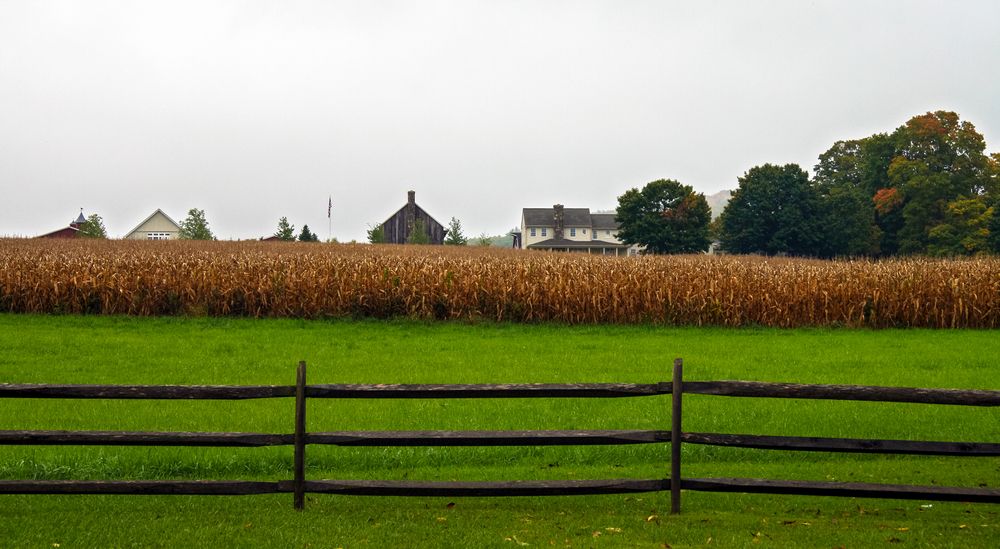 Corn fields in autumn near Kent, Connecticut, USA
Established in 1976 and sitting on Main Street, House of Books is a resourceful center where bookworms and lovers of knowledge can pop in to learn something new. It houses an impressive collection of literature on all subjects, including politics, art, fiction, history, and biographies.
A children's section with fun books and classic toys makes it an excellent spot for the whole family.
Visitors can get interesting book recommendations from the friendly staff to meet their interests and later buy adorable gifts and greeting cards. This is also an excellent opportunity to learn about the area's history and layout through books, local maps, and trail guides.
Admission: Free
Hours: Thursday to Saturday (10 am – 8 pm), Sunday to Wednesday (10 am – 5 pm)
Related: This Quirky Connecticut Book Barn Might Be The Place For Book Lovers
10
Savor A Sweet Treat At Kent Coffee & Chocolate Company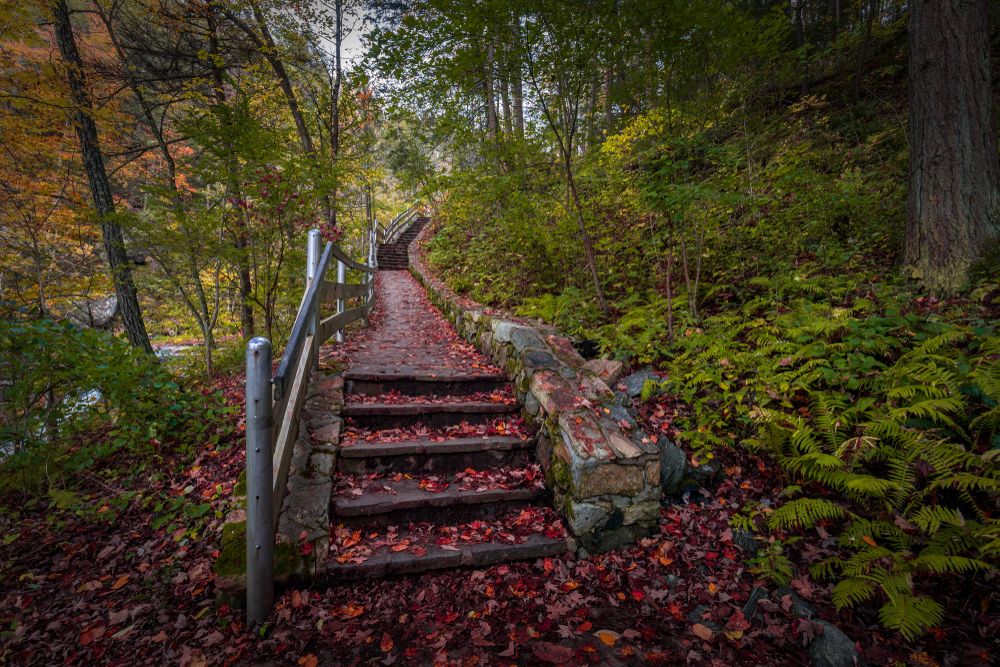 Climbing steps in the woods at Kent Falls State Park, Kent, Connecticut, USA.
Tourists with a sweet tooth can curb their cravings at the popular Kent Coffee & Chocolate Company. Established in 1991, it specializes in serving sumptuous gourmet chocolates and truffles.
Other delicious offerings include baked goods, teas, and coffees, which guests can enjoy on-site or purchase to-go.
Hours: Monday, Thursday & Friday (7 am – 6 pm), Saturday & Sunday (9 am – 5 pm)
Kent Coffee & Chocolate Company is just next to Fife 'n Drum Restaurant, another famous eatery in the town worth popping into for a delicious meal.
11
Best Time To Visit Kent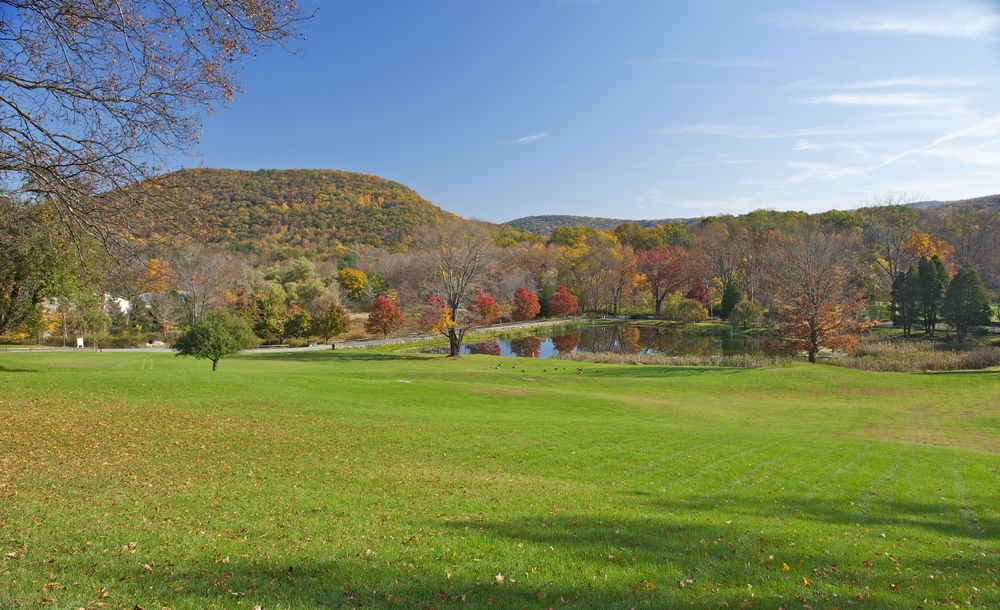 Beautiful Connecticut countryside during foliage season, South Kent, Connecticut, USA
Kent is one of the best places to be during fall in Connecticut. The gorgeous shades of red, yellow, and orange transform the wildernesses in the town into a dramatic scene, enhancing outdoor excursions.
The mild conditions are also perfect for exploring the many trails in Macedonia Brook State Park and hunting for hidden gems like Kent Falls and Bull's Bridge.
Those coming for warm-weather activities should visit between June and August when temperatures rise to a toasty 84 degrees Fahrenheit high. This period also sees the most visitors in the small town, so travelers might want to schedule their accommodation well in advance to avoid the high rates.
Summer activities include fishing, biking, camping, and even hiking, with access to some of the best sections of the Appalachian Trail.
For the budget-conscious tourist, December to February is the cheapest time in the town, and hotel rates are at their lowest. Despite the winter chill, visitors can keep warm with fun cold-season activities like cross-country skiing and snowshoeing on the town's frozen trails.
Related: Embrace The Bloom: 10 Of New England's Best Spring Destinations For Nature Lovers
12
How To Get Around Kent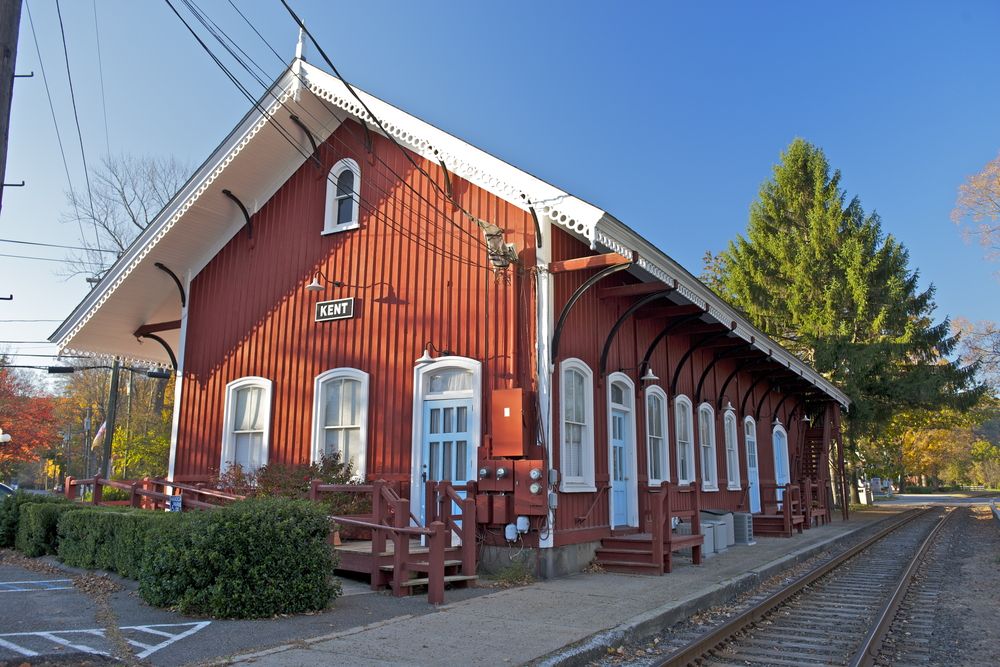 The Old train station, Kent, Connecticut, USA
Kent is a relatively small town that doesn't take much to explore comprehensively. While there are multiple ways to get around, the best options are:
Walking
Besides its small size, Kent houses lush forests and rolling streams culminating in a serene natural atmosphere best explored at a snail's pace. An easy-going walk or hike along the many peaceful trails in town enables visitors to take in all the scenes and sneak in a little exercise.
Biking
However, bike riding is the perfect alternative for those who feel walking is too much work. Vacationers can hire a bike from the Bicycle Tour Company for easy access to the main attractions in the town. The company also offers exciting bike tours for an excellent day out with family or friends.
Car
Although a car hire may not be necessary to get around Kent, it is handy for explorers looking to venture beyond the city limits. There are also many awesome road trips through New England that travelers will love.
13
Where To Stay In Kent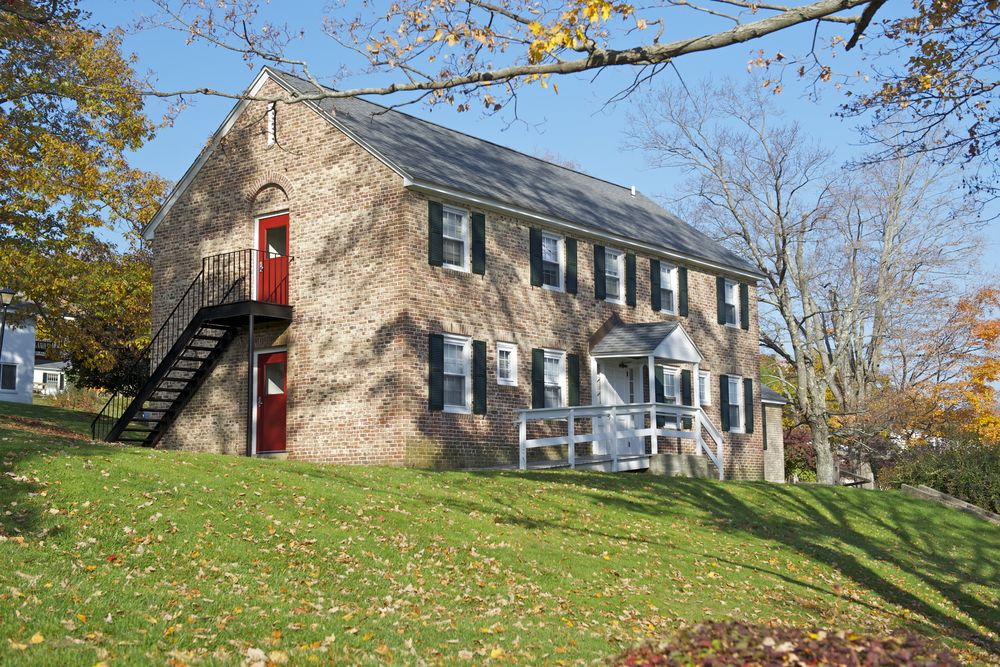 Typical New England cottage during foliage season, South Kent, Connecticut, USA
Kent has diverse accommodation options to guarantee tourists a good night's sleep. From charming B&Bs in the heart of town and plush cottages surrounded by lush nature to well-maintained campsites where outdoor enthusiasts sleep under the stars, there is something for all preferences and budgets.
Here are the best places to stay in Kent:
Luxury:
Address: 270 Kent Road, Cornwall Bridge, CT 06754
Rates per night: $$$
Amenities: Pool, Hot tub, Free Wi-Fi, Private bathroom, Complimentary breakfast, Terrace/Patio, Air-conditioned, Flat-screen TV, Grill
Address: 33 Camps Rd, Kent, CT 06757
Rates per night: $$$
Amenities: Air conditioning, Desk, Fireplace, Separate dining area, Separate living room, Wardrobe/closet, Walk-in shower, Bath/shower, Private bathrooms, Tile/marble floor, Complimentary toiletries, Hair dryer
Mid-range:
Address: 88 North Main Street, Kent, CT 06757
Rates per night: $$
Amenities: Free Wi-Fi, Air-conditioned, massage services, terrace, garden, library.
Cooper Creek Bed and Breakfast
Address: 230 Kent Cornwall Road, Kent, CT
Rates per night: $$
Amenities: Free parking, high-speed internet, no-smoking rooms
Budget:
Address: 59 S Kent Rd, Kent, CT
Rates per night: $
Address: 196 East Duncan Hill Road, Dover Plains, NY 12522
Rates per night: $
14
Where To Eat In Kent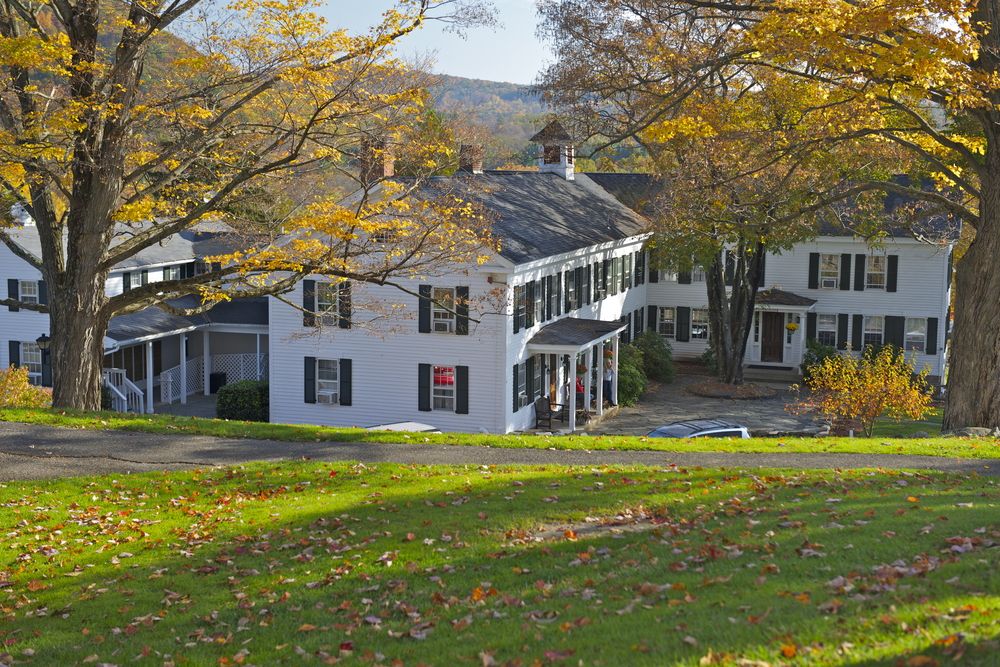 Typical New England cottage during foliage season, South Kent, Connecticut, USA
Kent may not be a gastronomic Mecca, but visitors can look forward to a delightful dining experience with local and international cuisines. From Connecticut's most famous dishes to comfort American foods, here are the best eateries in Kent.
Breakfast:
Kent Coffee & Chocolate Company
Address: 45 N Main St., Next door to the Fife 'n Drum Restaurant, Kent, CT 06757-1513
Hours: Monday, Thursday & Friday (7 am – 6 pm), Saturday & Sunday (9 am – 5 pm)
Lunch & dinner:
Villager Restaurant & Catering
Address: 28 N Main St, Kent, CT 06757-1511
Hours: 7 am – 4 pm
Address: 53 N Main St Rte. 7, Kent, CT 06757-1515
Hours: 12 pm – 8:30 pm
Related: For The Birthplace Of The Hamburger, Look No Further Than This Connecticut Eatery
Drinks:
Address: 14 N Main St, Kent, CT 06757-1511
Hours: 4:30 pm – 9 pm
15
How To Spend The Perfect Day In Kent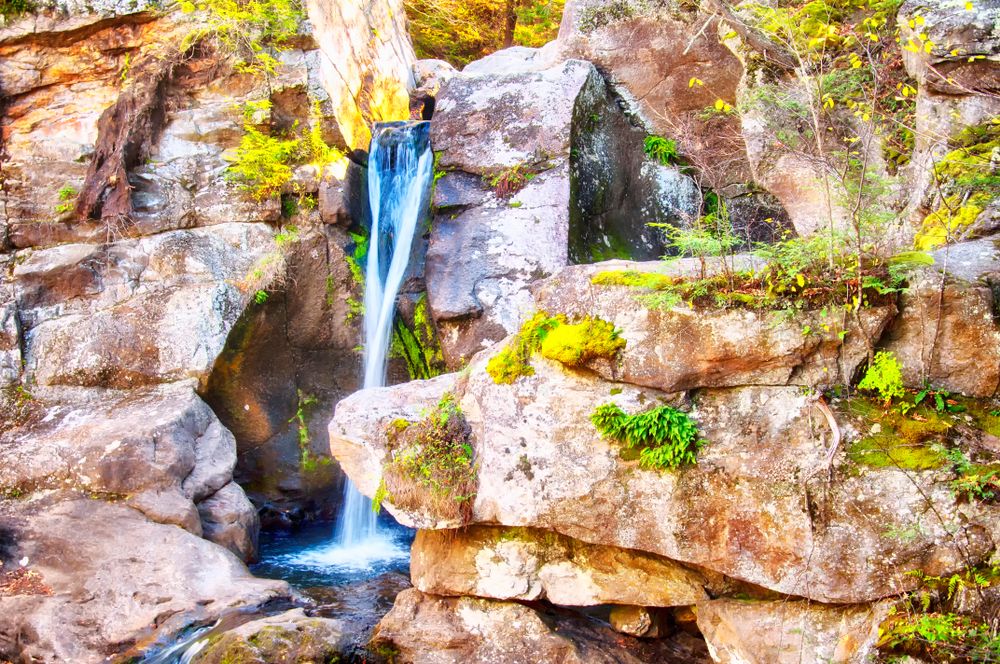 A small waterfall and pools of water at Kent Falls State Park in Kent, Connecticut, in autumn.
Kick off the day's activities with a hot cup of coffee at Kent Coffee & Chocolate Company, then head to the Connecticut Antique Machinery Association to examine the antique implements from the old days of Kent.
Discover more history and the Kent Historical Society's Seven Hearths before taking a tour of the Eric Sloane Museum to check out the works of the renowned Connecticut artist.
Later, head to Bull's Bridge and walk through the historic covered bridge, pausing to enjoy the beautiful surroundings. Proceed to explore and admire the beautiful pieces at Sculpturedale, then venture into the Kent Falls State Park. Hike the short trail to the top of the gorgeous cascade and take advantage of the stunning photo opportunity.
After a quick meal at Fife 'n Drum Restaurant, explore the town's top spots with the Bicycle Tour Company. Then, catch a ride to the Kent Falls Brewing Co. for a brewery tour and a taste of freshly made beer.
Finally, head back to town for a wholesome dinner at Kingsley Tavern and down it with drinks before retiring for the night.