The temperature is dropping by the day and it's absolutely teeming outside, think it's safe to say that Summer has officially ended. 
Remember that our weather can be quite unpredictable, so it's a good idea to have some indoor options in mind when you're looking for things to do in Liverpool.
The city offers plenty of indoor activities to enjoy. So here are some things to do in Liverpool when the weather isn't playing along. 
Visit Museums and Galleries 
One of the great things about Liverpool is our abundance of museums and art galleries, most of which are free entry! Get out of the rain and immerse yourself in culture and history at one of these iconic establishments: 
The Beatles Story – Explore the history of the world's most famous band.
World Museum Liverpool – Discover natural history, world cultures, and ancient civilisations.
Tate Liverpool – Enjoy contemporary and modern art exhibitions.
Museum of Liverpool – Learn about the city's rich history and culture.
Indoor Shopping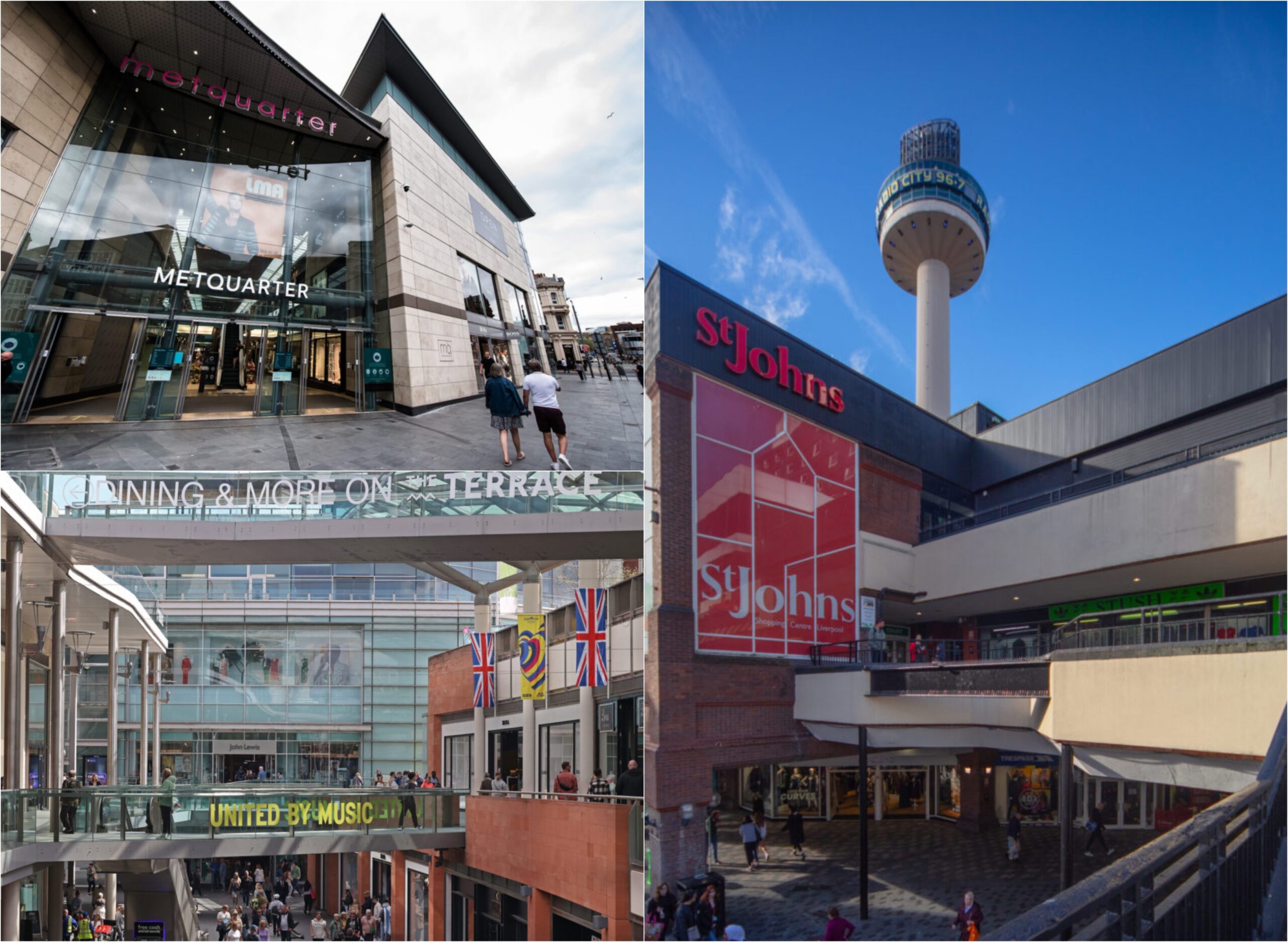 Head to the Liverpool ONE shopping centre, which has a wide range of shops, restaurants, and entertainment options. With plenty of cover, you shouldn't get too drenched should the heavens open up! 
Check out St John's Shopping centre which has everything from clothing stores, to Aldi and Home Bargains, as well as a food court to grab a spot of lunch.
Also situated in the heart of Liverpool City Centre, is Metquarter – a premium retail destination, with an unrivalled mix of global brands and dynamic local labels including Kids Cavern, Everyman Cinema, Cricket Fashion, Boss, 200 Degrees and Kurt Geiger, and GPO food hall.
Watch a Show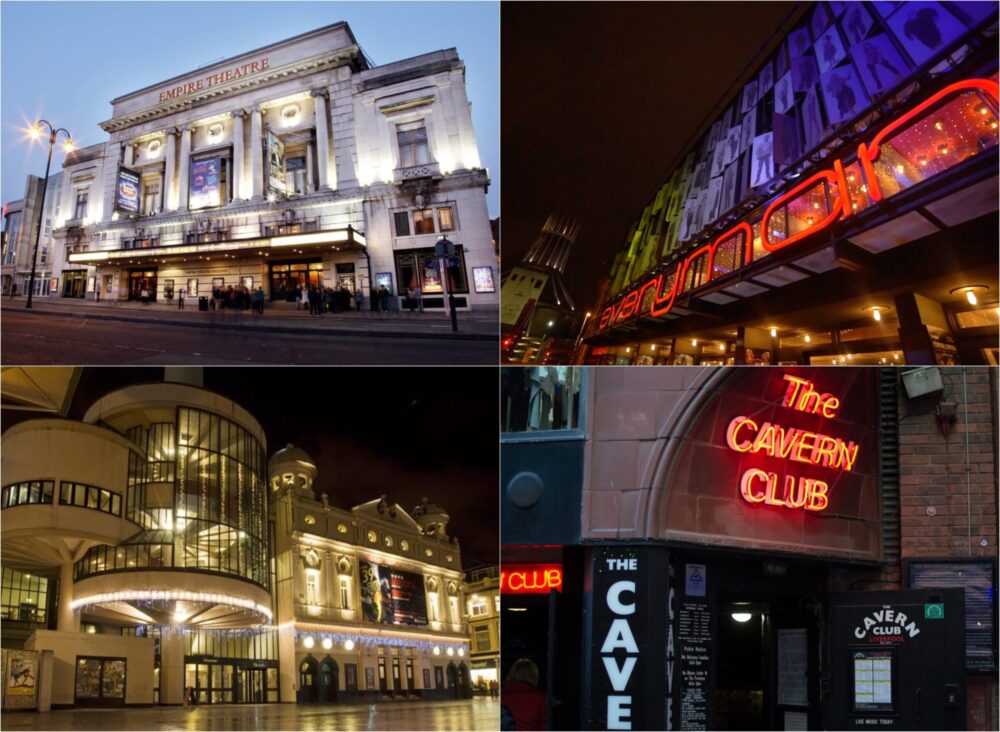 There's always something playing in the city, whether that's theatre, live music, or concerts. 
Check out what's playing at the Liverpool Empire Theatre or the Everyman and Playhouse Theatre's. You could even enjoy live music at venues like the Cavern Club or the Philharmonic Hall.
Explore The Royal Albert Dock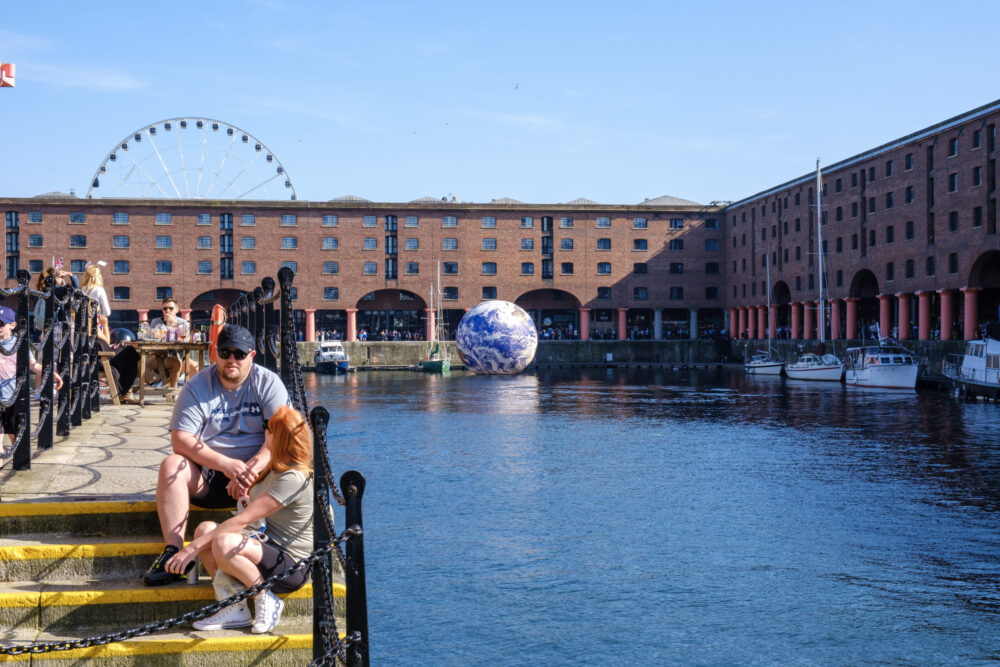 No Visit to The Albert Dock is complete without stopping into the Maritime Museum to find out all about Liverpool's seafaring past. Or you can hear the untold stories of enslaved people, and learn about historical and contemporary slavery at The International Slavery Museum. 
Don't forget to explore the shops, cafes, and restaurants in the historic dock area while you're there.
Fun Indoors!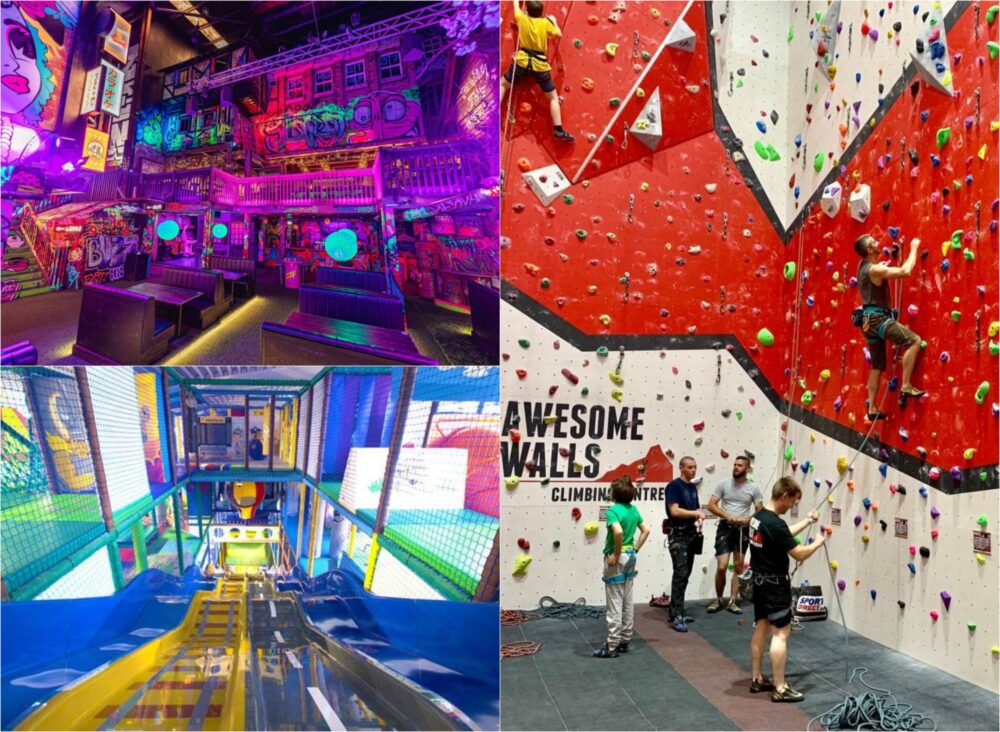 Warm yourself up by taking part in sport activities. Climbing used to be considered the preserve of adrenaline junkies but has now moved mainstream with the onset of indoor climbing walls, so why not try indoor rock climbing at Awesome Walls Climbing Centre? 
Escape the elements in Golf Fang at Cains Brewery Village – Expect 18 holes of pure enjoyment –  with each hole offering up a unique, 'gram worthy photo opportunity, bespoke art, DJs, street food and cocktails inside a cathedral of graffiti.
Never doing themes by halves; Golf Fang offers an immersive & interactive experience, from a Jeremy Kyle inspired hole that looks like it was ripped right from the studio, to a life sized teddy claw machine, so customers will be in for a surprise with every single swing. 
Take the kids over to Bubbles' World of Play in New Brighton. Bubbles' is the largest and most innovative indoor play area in the UK, offering a whole new concept of play that is both fun, educating and fitness enhancing for 0 – 11 year olds.
Children are encouraged to learn and explore over 30 different countries and zones, from the Sydney Harbour Bridge to the Northern Lights, stopping for fun in India, Dinoland, Italy and many other 'countries' along the way.
Parents can relax in the comfortable seating areas enjoying quality food and drink from their 5* kitchen, whilst knowing your children are safe and secure thanks to their extensive CCTV system, alarms on all exit doors and secure check in / check out admission system.
Escape Rooms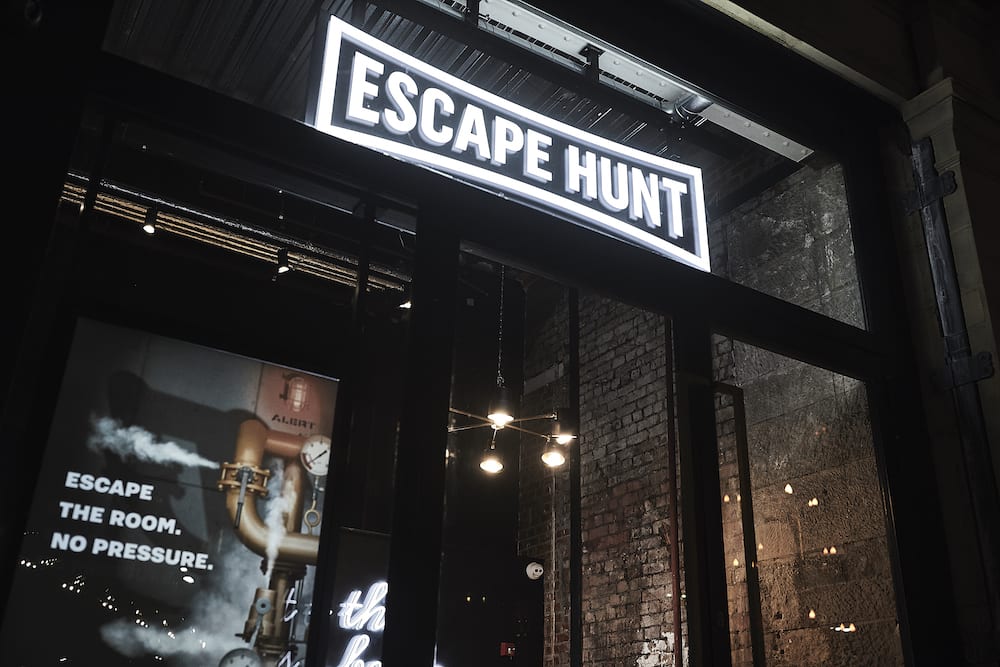 Visit one of Liverpool's escape rooms for an exhilarating and immersive adventure that challenges your wits, teamwork, and problem-solving skills in a thrilling and unique setting. There's Escape Live in Liverpool ONE with their Peaky Blinders inspired room. 
Escape Hunt in Liverpool's Royal Albert Dock has an Alice in Wonderland inspired room where The Mad Hatter is in trouble, and you must save him from the Queen of Hearts without losing your heads.
Or take part in your very own Squid Game at Game Over Escape Room on Kempston Street.
Go to the Cinema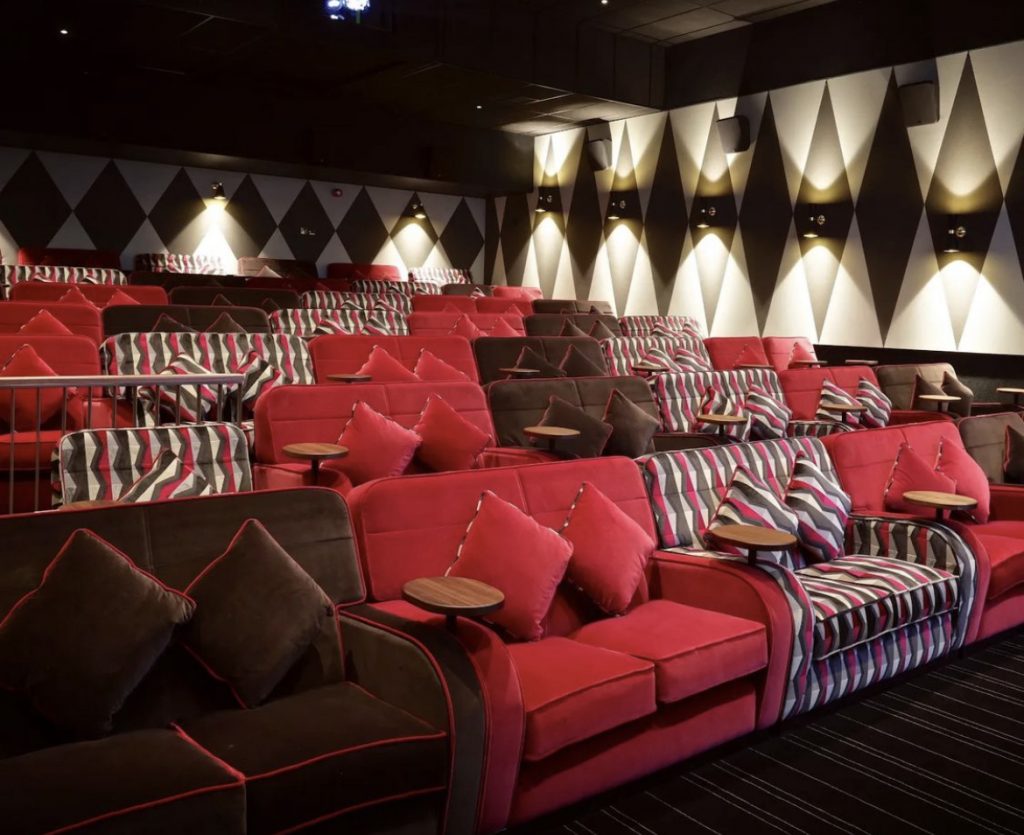 Get cozy at "The Other" Everyman inside the Metquarter. Big squashy couches, food and drink brought straight to you seat and a good movie… what's more perfect on a rainy day. 
Head over to the Odeon in Liverpool ONE and take your experience to the next level with their Dolby Cinema and IMAX screens, both featuring luxurious recliner seats.
Go Bowling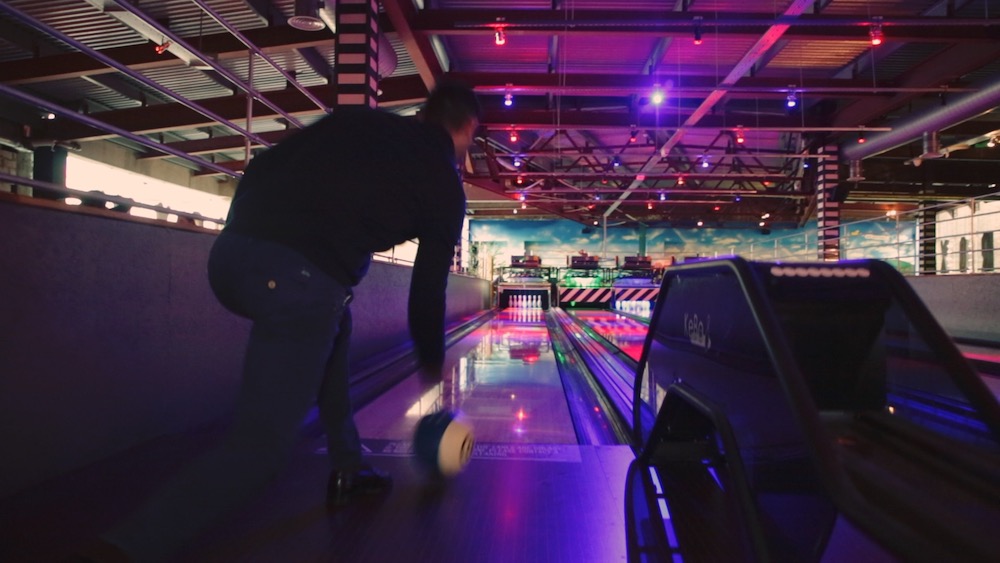 Roxy Ballroom in the Cavern Quarter of Liverpool has is a great way to let your competitive spirit go wild with ten pin bowling, Roxy Golf, shuffleboard, karaoke and plenty of other games to choose from.
Head on over to the New Mersey Retail Park and experience the best bowling Speke has to offer at Hollywood Bowl! With delicious food and drinks, fantastic deals, and 16 state-of-the-art lanes – it's the perfect place to make fun-filled memories for everyone.
Gaming Arcades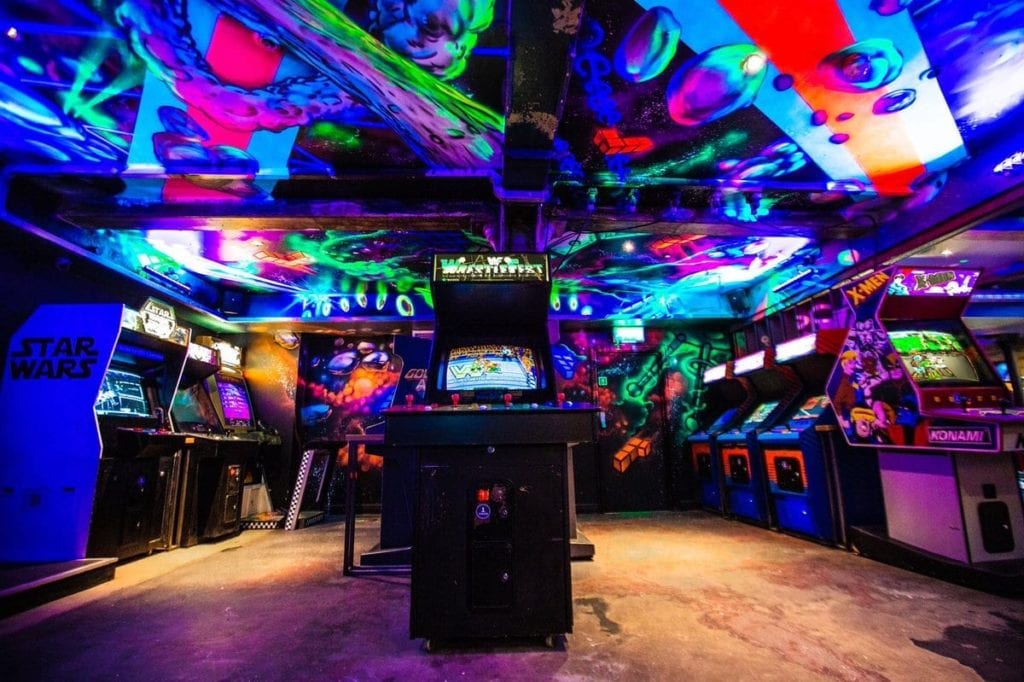 Wait out the rain with hours of fun at one of Liverpool's gaming arcades. NQ64 is an underground drinking den where you can expect to find the best retro arcade games and classic consoles. Alongside the games there's a drinks list with specially selected beer and game-themed cocktails.
Check out Boom Battle Bar in St John's Shopping Centre their venues are filled with crazy games like Bavarian Axe-Throwing, Crazier Golf, Electric Darts, Shuffleboard, Beer Pong, Skeeball. 
Have a drink in an old prison cell
There's so many cosy pubs and restaurants to check out in the city, The Bridewell in Campbell Square has got a great reputation for its unusual and fascinating bar area, in the cells of this former Liverpool lock-up. 
Close to Liverpool ONE and the Albert Dock, the Campbell Square favourite has been named Pub of the Year 2022, thanks to its cask ales, and a range of craft kegs and continental beers.
You're always guaranteed a warm welcome from landlady Fiona Hornsby and husband, Dominic, who'll be happy to chat and regale guests with stories about the pub where, in its former life, Charles Dickens worked as a special constable, and which was even used by the US Military in WWII!
For more things to do in Liverpool check out our calendar HERE.