Details on Nick Chubb's season-ending injury, Monday night grades plus Prisco's Week 3 Power Rankings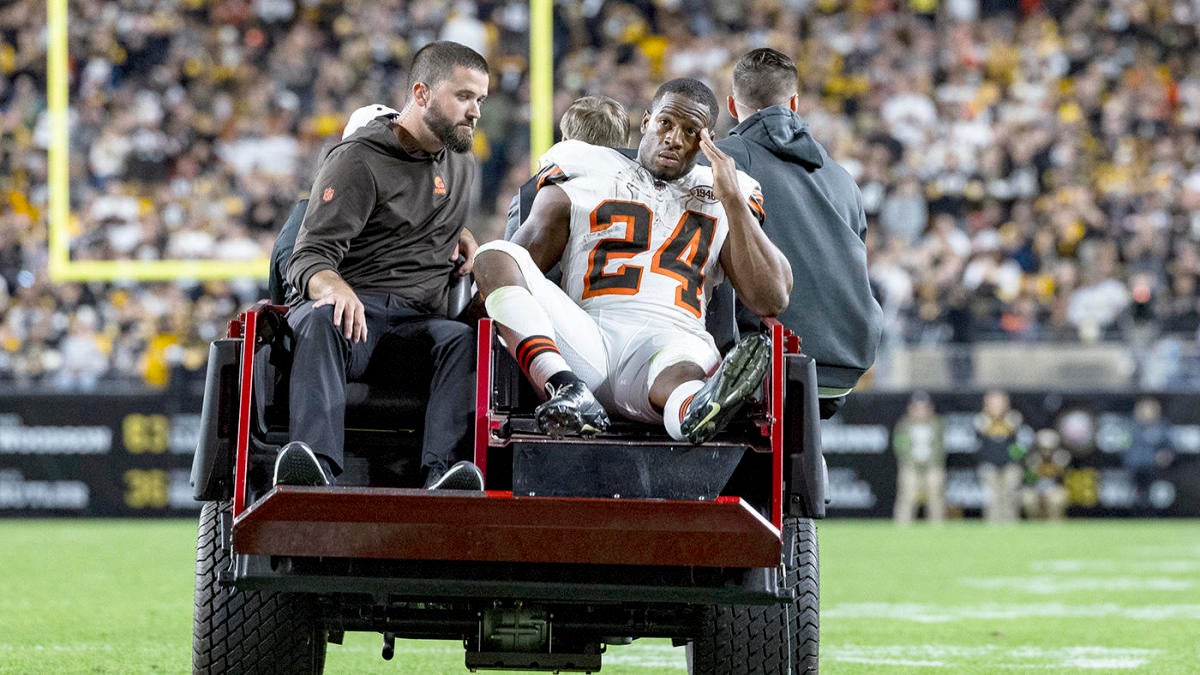 Welcome to the Tuesday edition of the Pick Six newsletter. 
For the second straight week, there was a major injury on "Monday Night Football." Last week, it was Aaron Rodgers. This week, it was Nick Chubb, who is done for the season after injuring his knee in Cleveland's 26-22 loss to the Steelers. The NFL might want to flex every team out of Monday for the rest of the season. 
We'll be taking a closer look at Chubb's injury today, plus looking at the Browns' options at running back. We'll also be grading the four teams that played last night and Pete Prisco will be unveiling his Power Rankings heading into Week 3. 
As always, here's your daily reminder to tell all your friends to sign up for the newsletter. It's the perfect gift to get for your favorite football-loving friend at the start of the season. To get them signed up, all you have to do is click here. All right, let's get to the rundown. 
1. Today's Show: Early bets for Week 3
With Week 2 officially in the books, we decided to get an early jump on Week 3 today by revealing some of our best bets for the upcoming week of NFL action.
During today's episode, Katie Mox and Will Brinson were joined by SportsLine gambling gurus Emory Hunt and Alex "PropStarz" Selesnick. 
The crew covered several of their favorite bets for Week 3 and we're going to look at one from each of them below with focus on the this week's Thursday game: 
Hunt: 49ers (-10.5) to cover against the Giants. Hunt is absolutely loving the 49ers in this game. "I struggle to see how the Giants score in this game. I really think we may see a shutout here. I don't think 10.5 is big enough. … I could see this one being 35-3." 
Mox: 49ers over 27.5 points scored (-115). Katie bet on the 49ers team total in each of the first two weeks and she won both times, so now, she's going back to the well for a third time. "I'm going to keep riding the 49ers team total. It's hit in the past two weeks. They've scored at least 30 points in each of the past two weeks and I think they can hit that number again against the Giants."
Brinson: Rams to make the playoffs (+225). Forget Week 3, Brinson decided to jump on a futures bet that he's loving right now that's the Rams to make the playoffs. "The Rams at +225 to make the playoffs is a good bet. … They've got some guys who are better players than we all thought and Stafford is playing like he was playing in 2020. If he can stay healthy, he can get them to the playoffs."
If you want to hear the rest of the props and early best bets for Week 3, you can do that by listening to the show here. You can also watch today's show on YouTube by clicking here. 
2. Monday night rewind: Nick Chubb out for season, plus grading all four teams that played
For the second straight week, a key offensive player suffered a devastating injury in a Monday night game. In Week 1, the Jets lost Aaron Rodgers to a season-ending injury. This week, Nick Chubb was lost for the season after suffering a brutal injury against the Steelers.  
Here's what you need to know about the situation: 
Chubb done for the year. Browns coach Kevin Stefanski has confirmed that Chubb suffered a significant knee injury. Due to that fact, Chubb is definitely done for the season. According to NFL.com, the running back's injury likely includes "multiple torn ligaments." Chubb suffered a similar iniury at UGA in 2015 when he tore his MCL, PCL and LCL in a game against Tennessee. 
How the injury happened. Early in the second quarter, the Browns were facing a first-and-goal from Pittsburgh's eight-yard line. On the play, Chubb took the ball up the middle before getting tackled. As he went down, his knee bent backwards and it was pretty clear as soon as it happened that Chubb was likely going to be done for the year (Minkah Fitzpatrick was also injured on the play and actually had to be taken to the hospital, but it's looking like he's going to be just fine).   
Browns RB options. If the Browns want to bring in a running back, their best option is likely Kareem Hunt. They let him walk in free agency back in March, but he still hasn't signed with anyone. If they bring back the 28-year-old, he should be able to get up to speed quickly since he played in Cleveland for the past four seasons. The Browns could also just roll with Jerome Ford, who had a huge game in relief of Chubb, rushing for 106 yards. There's also a couple of trade options. For one, the Browns could call the Colts and see if Jonathan Taylor is still available. It wouldn't be cheap, but it would make a lot of sense with Chubb now out. If the Browns want someone who would almost certainly come cheaper than Taylor, they could call the Rams about Cam Akers, who is currently on the trade market. 
As for the actual game between the Browns and Steelers, we're going to grade that now. And you know what? There were actually two games last night — the Saints also played the Panthers — so we might as well go ahead and grade that game, too. 
Saints 20-17 over Panthers (Click here for full game recap, analysis)
Saints takeaway: Through two weeks, it's starting to look like the Saints might have one of the best defenses in the NFL. Their defensive front absolutely manhandled the Panthers offensive line on a night where Carolina was held to under 250 yards of offense. The defense has only given up one touchdown this year, which is making things much easier for the Saints' offense. Grade: B
Panthers takeaway: When you have a rookie quarterback, you know there are going to be growing pains and there were plenty of those for Bryce Young in this game. The No. 1 overall pick struggled with his accuracy, he rarely threw the ball down field and he was indecisive on quite a few plays, which caused the offense to sputter for the better part of three quarters. The Panthers defense did its best to keep Carolina in the game, but it seemed to wear down on a night where New Orleans ran 74 plays. Grade: A
Steelers 26-22 over Browns (Click here for full game recap, analysis)
Browns takeaway: When the Browns signed Deshaun Watson, they thought they had solved all of their problems at quarterback. Yet right now, that doesn't appear to be the case. Instead, he's causing them. Watson almost single-handedly gave this game away by giving the Steelers two touchdowns (a pick-six on the first play of the game and a fumble that was returned for a TD in the fourth quarter). The Browns' rushing attack was the only part of the offense that was working. Even after Nick Chubb was lost to a season-ending injury, Jerome Ford stepped in and ran for 106 yards. Defensively, the Browns continue to be on a warpath. One week after shutting down Cincinnati, the Browns held the Steelers to just 255 yards of offense. The Browns got a strong performance from everyone but Watson, and if he can't figure out things soon, it could be another lost season for Cleveland. Grade: C
Steelers takeaway: For the second straight week, the Steelers offense didn't really show up, but that turned out not to be a big deal because the defense took care of business. The Steelers only scored three touchdowns in this game, and TWO of them were scored by the defense. Alex Highsmith was the star: Not only did he get a pick-six on the first play, but he also forced a Deshaun Watson fumble in the fourth quarter that T.J. Watt would return for a TD. The defense beat up on Watson, who got sacked six times. The Steelers offense did come up with one big play — a 71-yard TD catch by George Pickens — but other than that, it was a rough night for Kenny Pickett and Co. The good news for Pittsburgh is that the defense is so good that the Steelers can still win even when the offense has a rough night. Grade: B
If you want to see the grades from every Week 2 game, be sure to click here. 
3. Prisco's Power Rankings heading into Week 3
With Week 2 officially in the bag after Monday's doubleheader, Pete Prisco got busy last night rearranging his Power Rankings. Prisco is probably going to be getting some hate mail from Philadelphia and that's because he dropped the Eagles BEHIND the Cowboys this week even though Philly and Dallas have the same record.  
Here's a look at Prisco's top five teams heading into Week 3: 
49ers (Same as last week) 
Cowboys (Moved up three spots from last week) 
Eagles (Fell one spot)
Chiefs (Same as last week) 
Ravens (Moved up one spot) 
I'm not going to spoil the rest of the Power Rankings here, but I am going to give you a few nuggets. Here's what has changed since Prisco's last Power Rankings: 
The biggest jump this week went to the Tennessee Titans. After beating the Chargers in overtime, Prisco rewarded the Titans by moving them up NINE spots from 23rd to 14th. As someone who predicted that the Titans would win the AFC South, I'm glad that Prisco finally seems to be coming around on them.  
Two teams in the same division tied for the biggest jump in the NFC: the Saints and Falcons. Both teams won in Week 2 to move to 2-0 and Prisco responded by bumping them BOTH up seven spots. For the Falcons, that meant moving up from 19th to 12th, while the Saints went from 16th to ninth.   
The biggest tumble went to the Cleveland Browns. To add insult to injury following their Monday night loss to Pittsburgh, Prisco dropped them TEN SPOTS. The Browns had been in the top 10 at No. 7, but now, they're at 17th overall. If you're wondering why they fell: Prisco says it's because Deshaun Watson still doesn't look good and they lost Nick Chubb for the season. 
Now, let's talk about the worst team in the NFL. For the second straight week, the Cardinals looked surprisingly good for three quarters while building a 28-7 lead against the Giants, but then they blew that lead and lost. I thought the Cardinals had a chance to move out of the last spot, but nope, Prisco still has them there, which is fair, because you have to be pretty bad to blow a 21-point lead in one half. 
If you want to know where your favorite team ended up in Prisco's Week 3 Power Rankings, be sure to click here. If you want to argue with Prisco over his rankings, you can do that on Twitter by clicking here. I argue with him all the time about everything. 
4. Breech's Week 3 picks: Chargers fall to 0-3
It's Tuesday, which can only mean one thing: It's time for my weekly picks. 
If this is your first season with us, here's how the formula works around here: I stay up until an insane hour every Monday night so that I can give you my picks every Tuesday morning. Staying up all night usually involves a lot of coffee, two waffles and maybe some Taco Bell, depending on what kind of mood I'm in. Apparently, I was in a good mood last week, because I went 11-5 with my picks. 
With that in mind, here are three of my picks for the Week 3, starting with the Thursday night game: 
N.Y. Giants at San Francisco (-10): I only have one rule when it comes to making NFL picks and that rule is that I have to pick against Daniel Jones whenever he's playing in prime time. Over the course of his career, Jones has a record of 1-10 under the bright lights, which includes a 40-0 loss to the Cowboys in Week 1. In those 11 games, Jones had thrown more interceptions (15) than touchdowns (12) and the Giants' 10 losses have come by an average of 12.4 points. I would pick the 49ers to win by 12.4 points, but I don't think I'm allowed to do that, so I'll go with them winning by 14. PICK: 49ers 31-17 over Giants. 
L.A. Chargers at Minnesota (Pick'em): Through two weeks, the Chargers have given up more passing yards than any team in the NFL, and now, they have to face the team that has arguably the best wide receiver in the league. This game feels like a shootout waiting to happen with the Vikings only winning after the Chargers invent another impossible way to lose. PICK: Vikings 34-31 over Chargers
New Orleans at Green Bay (-1.5): The Saints got dealt an ugly hand by the NFL schedule-maker: After playing a Monday night road game in Week 2, they now have to travel to Green Bay on a short week. They're the only team in the NFL that will play a road game following a Monday road game this year. The Saints are losing a day of rest, they're going to be beat up and they have to travel again. That seems like the recipe for a loss. PICK: Packers 23-20 over Saints
To check out the rest of my picks for Week 3, be sure to click here. 
5. NFL Week 2: Overreaction or reality
Everyone on the internet loves to overreact to things, and especially when it comes to the NFL. With that in mind, Jeff Kerr decided to take a look at several things that happened around the NFL this week to decide if we're all overreacting. 
Situation: The Jets need to move on from Zach Wilson if they want to have any shot at the playoffs. 
Overreaction or reality: Reality. "The Jets scored 10 points in a blowout loss to the Cowboys. They can't continue moving forward with Wilson behind that offensive line, no matter how hard Robert Saleh tries. Sure Wilson knows the system, but he hasn't been good in said system… If New York wants to have a shot at the playoffs, it needs to find someone better than Wilson."
Situation: Brandon Staley won't make it through the season. 
Overreaction or reality: Overreaction. "The start of the season for the Chargers doesn't look great, especially at 0-2 with Justin Herbert at quarterback. The Chargers have two losses by a combined five points, allowing 30.5 points per game in those losses. Keep in mind Staley is a defensive coach. … Too soon to believe Staley will get fired through two games, but another loss next week will turn his warm seat into a hot seat."
Situation: Bijan Robinson is already a top-five running back. 
Overreaction or reality: Reality. "Robinson is already second in the NFL in rushing yards (180) and fourth in the NFL in yards from scrimmage (255). He's already averaging 6.2 yards per carry and showcased his game-changing ability on offense with his ability to make big plays on crucial downs. Through two weeks, Robinson is already a top-five running back."
There are plenty more overreactions from Week 2 and if you want to check those out, be sure to click here. 
6. Extra points: Patrick Mahomes hits jackpot with historic contract restructuring
It's been a busy 24 hours in the NFL, and since it's nearly impossible to keep track of everything that happened, I went ahead and put together a roundup for you. 
Patrick Mahomes is now the highest-paid QB in the NFL. The Chiefs restructured Mahomes' 10-year contract on Monday and the most notable part of the revised deal is that Mahomes will now get $210.6 million in guaranteed money over the next four seasons (2023-26). That's the most money that any player in NFL history has ever been guaranteed over a four-year span. For a closer look at the revised deal,

be sure to click here

.  
Saquon Barkley likely out for at least three weeks. The Giants running back

sprained his ankle on Sunday

and it's looking like that injury will keep him out at least three weeks, according to ESPN.com. If that's the case, it means that Barkley will miss games against the 49ers, Seahawks and Dolphins. 
Bengals unsure if Joe Burrow will play in Week 3. The Bengals star aggravated his calf injury on Sunday and there's no guarantee he's going to be able to play this week against the Rams. "It's hard for me to say right now," coach Zac Taylor said when asked about Burrow's status. If the Bengals want to save their season, the best bet might be to put Burrow on injured reserve right now and if you want to know why, I

outlined the reasons here

. 
C.J. Gardner-Johnson could be out for the season. The Lions secondary took an unexpected hit on Monday with the loss of Gardner-Johnson. The Lions defensive

back suffered a torn pec in Week 2 and that injury

could end up sidelining him for the rest of the year. 
Chargers mum about when Austin Ekeler will return. The Chargers star missed Week 2 with an ankle injury and it's starting to look like he could end up missing even more time. Coach Brandon Staley was asked about Ekeler's status on Monday and he said he had no timetable for a possible return. 
NFL Week 2 injury report. There are a lot of injuries to keep tabs on this week, including Davante Adams (concussion), Anthony Richardson (concussion) David Montgomery (thigh bruise), and Odell Beckham Jr. (ankle). If you want the latest on those injuries, including Diontae Johnson being placed on IR, be 

sure to check out our Week 2 injury report here

.
NFL files grievance against NFLPA. The NFL has filed a grievance that accuses the NFLPA of improperly advising running backs to "consider feigning or exaggerating injuries" to help with their contract negotiations. No matter what happens in the grievance, the NFL is going to look like a bad guy considering that running backs are dropping like flies with Saquon Barkley, Nick Chubb and Austin Ekeler all going down with injuries since the start of the season. The grievance is related to advice given out during training camp. Running backs play a brutal position and they get hit on nearly every play, so it's hard to get mad at them if they "feign" an injury to get an extra day or two off during training camp, even if they're doing it to get a better contract. 
Hall of Fame reveals nominees for 2024. There are 173 modern-era nominees for the class of 2024 and the HOF revealed the full list today. The list is headlined by several players who are eligible for the first time, including WR Brandon Marshall, WR Jordy Nelson, TE Antonio Gates, RB Jamaal Charles and EDGE Julius Peppers. You

can see the full list here

. 
XFL and USFL might be merging. The two spring leagues are

in talks about a possible merger

, according to Axios. This shouldn't come as a huge surprise and that's mostly because having two spring leagues seemed pretty unsustainable. 
require.config({"baseUrl":"https:\/\/sportsfly.cbsistatic.com\/fly-0550\/bundles\/sportsmediajs\/js-build","config":{"version":{"fly\/components\/accordion":"1.0","fly\/components\/alert":"1.0","fly\/components\/base":"1.0","fly\/components\/carousel":"1.0","fly\/components\/dropdown":"1.0","fly\/components\/fixate":"1.0","fly\/components\/form-validate":"1.0","fly\/components\/image-gallery":"1.0","fly\/components\/iframe-messenger":"1.0","fly\/components\/load-more":"1.0","fly\/components\/load-more-article":"1.0","fly\/components\/load-more-scroll":"1.0","fly\/components\/loading":"1.0","fly\/components\/modal":"1.0","fly\/components\/modal-iframe":"1.0","fly\/components\/network-bar":"1.0","fly\/components\/poll":"1.0","fly\/components\/search-player":"1.0","fly\/components\/social-button":"1.0","fly\/components\/social-counts":"1.0","fly\/components\/social-links":"1.0","fly\/components\/tabs":"1.0","fly\/components\/video":"1.0","fly\/libs\/easy-xdm":"2.4.17.1","fly\/libs\/jquery.cookie":"1.2","fly\/libs\/jquery.throttle-debounce":"1.1","fly\/libs\/jquery.widget":"1.9.2","fly\/libs\/omniture.s-code":"1.0","fly\/utils\/jquery-mobile-init":"1.0","fly\/libs\/jquery.mobile":"1.3.2","fly\/libs\/backbone":"1.0.0","fly\/libs\/underscore":"1.5.1","fly\/libs\/jquery.easing":"1.3","fly\/managers\/ad":"2.0","fly\/managers\/components":"1.0","fly\/managers\/cookie":"1.0","fly\/managers\/debug":"1.0","fly\/managers\/geo":"1.0","fly\/managers\/gpt":"4.3","fly\/managers\/history":"2.0","fly\/managers\/madison":"1.0","fly\/managers\/social-authentication":"1.0","fly\/utils\/data-prefix":"1.0","fly\/utils\/data-selector":"1.0","fly\/utils\/function-natives":"1.0","fly\/utils\/guid":"1.0","fly\/utils\/log":"1.0","fly\/utils\/object-helper":"1.0","fly\/utils\/string-helper":"1.0","fly\/utils\/string-vars":"1.0","fly\/utils\/url-helper":"1.0","libs\/jshashtable":"2.1","libs\/select2":"3.5.1","libs\/jsonp":"2.4.0","libs\/jquery\/mobile":"1.4.5","libs\/modernizr.custom":"2.6.2","libs\/velocity":"1.2.2","libs\/dataTables":"1.10.6","libs\/dataTables.fixedColumns":"3.0.4","libs\/dataTables.fixedHeader":"2.1.2","libs\/dateformat":"1.0.3","libs\/waypoints\/infinite":"3.1.1","libs\/waypoints\/inview":"3.1.1","libs\/waypoints\/jquery.waypoints":"3.1.1","libs\/waypoints\/sticky":"3.1.1","libs\/jquery\/dotdotdot":"1.6.1","libs\/jquery\/flexslider":"2.1","libs\/jquery\/lazyload":"1.9.3","libs\/jquery\/maskedinput":"1.3.1","libs\/jquery\/marquee":"1.3.1","libs\/jquery\/numberformatter":"1.2.3","libs\/jquery\/placeholder":"0.2.4","libs\/jquery\/scrollbar":"0.1.6","libs\/jquery\/tablesorter":"2.0.5","libs\/jquery\/touchswipe":"1.6.18","libs\/jquery\/ui\/jquery.ui.core":"1.11.4","libs\/jquery\/ui\/jquery.ui.draggable":"1.11.4","libs\/jquery\/ui\/jquery.ui.mouse":"1.11.4","libs\/jquery\/ui\/jquery.ui.position":"1.11.4","libs\/jquery\/ui\/jquery.ui.slider":"1.11.4","libs\/jquery\/ui\/jquery.ui.sortable":"1.11.4","libs\/jquery\/ui\/jquery.ui.touch-punch":"0.2.3","libs\/jquery\/ui\/jquery.ui.autocomplete":"1.11.4","libs\/jquery\/ui\/jquery.ui.accordion":"1.11.4","libs\/jquery\/ui\/jquery.ui.tabs":"1.11.4","libs\/jquery\/ui\/jquery.ui.menu":"1.11.4","libs\/jquery\/ui\/jquery.ui.dialog":"1.11.4","libs\/jquery\/ui\/jquery.ui.resizable":"1.11.4","libs\/jquery\/ui\/jquery.ui.button":"1.11.4","libs\/jquery\/ui\/jquery.ui.tooltip":"1.11.4","libs\/jquery\/ui\/jquery.ui.effects":"1.11.4","libs\/jquery\/ui\/jquery.ui.datepicker":"1.11.4"}},"shim":{"liveconnection\/managers\/connection":{"deps":["liveconnection\/libs\/sockjs-0.3.4"]},"liveconnection\/libs\/sockjs-0.3.4":{"exports":"SockJS"},"libs\/setValueFromArray":{"exports":"set"},"libs\/getValueFromArray":{"exports":"get"},"fly\/libs\/jquery.mobile-1.3.2":["version!fly\/utils\/jquery-mobile-init"],"libs\/backbone.marionette":{"deps":["jquery","version!fly\/libs\/underscore","version!fly\/libs\/backbone"],"exports":"Marionette"},"fly\/libs\/underscore-1.5.1":{"exports":"_"},"fly\/libs\/backbone-1.0.0":{"deps":["version!fly\/libs\/underscore","jquery"],"exports":"Backbone"},"libs\/jquery\/ui\/jquery.ui.tabs-1.11.4":["jquery","version!libs\/jquery\/ui\/jquery.ui.core","version!fly\/libs\/jquery.widget"],"libs\/jquery\/flexslider-2.1":["jquery"],"libs\/dataTables.fixedColumns-3.0.4":["jquery","version!libs\/dataTables"],"libs\/dataTables.fixedHeader-2.1.2":["jquery","version!libs\/dataTables"],"https:\/\/sports.cbsimg.net\/js\/CBSi\/app\/VideoPlayer\/AdobePass-min.js":["https:\/\/sports.cbsimg.net\/js\/CBSi\/util\/Utils-min.js"]},"map":{"*":{"adobe-pass":"https:\/\/sports.cbsimg.net\/js\/CBSi\/app\/VideoPlayer\/AdobePass-min.js","facebook":"https:\/\/connect.facebook.net\/en_US\/sdk.js","facebook-debug":"https:\/\/connect.facebook.net\/en_US\/all\/debug.js","google":"https:\/\/apis.google.com\/js\/plusone.js","google-csa":"https:\/\/www.google.com\/adsense\/search\/async-ads.js","google-javascript-api":"https:\/\/www.google.com\/jsapi","google-client-api":"https:\/\/accounts.google.com\/gsi\/client","gpt":"https:\/\/securepubads.g.doubleclick.net\/tag\/js\/gpt.js","hlsjs":"https:\/\/cdnjs.cloudflare.com\/ajax\/libs\/hls.js\/1.0.7\/hls.js","recaptcha":"https:\/\/www.google.com\/recaptcha\/api.js?onload=loadRecaptcha&render=explicit","recaptcha_ajax":"https:\/\/www.google.com\/recaptcha\/api\/js\/recaptcha_ajax.js","supreme-golf":"https:\/\/sgapps-staging.supremegolf.com\/search\/assets\/js\/bundle.js","taboola":"https:\/\/cdn.taboola.com\/libtrc\/cbsinteractive-cbssports\/loader.js","twitter":"https:\/\/platform.twitter.com\/widgets.js","video-avia":"https:\/\/vidtech.cbsinteractive.com\/avia-js\/2.12.0\/player\/avia.min.js","video-avia-ui":"https:\/\/vidtech.cbsinteractive.com\/avia-js\/2.12.0\/plugins\/ui\/avia.ui.min.js","video-avia-gam":"https:\/\/vidtech.cbsinteractive.com\/avia-js\/2.12.0\/plugins\/gam\/avia.gam.min.js","video-avia-hls":"https:\/\/vidtech.cbsinteractive.com\/avia-js\/2.12.0\/plugins\/hls\/avia.hls.min.js","video-avia-playlist":"https:\/\/vidtech.cbsinteractive.com\/avia-js\/2.12.0\/plugins\/playlist\/avia.playlist.min.js","video-ima3":"https:\/\/imasdk.googleapis.com\/js\/sdkloader\/ima3.js","video-ima3-dai":"https:\/\/imasdk.googleapis.com\/js\/sdkloader\/ima3_dai.js","video-utils":"https:\/\/sports.cbsimg.net\/js\/CBSi\/util\/Utils-min.js","video-vast-tracking":"https:\/\/vidtech.cbsinteractive.com\/sb55\/vast-js\/vtg-vast-client.js"}},"waitSeconds":300});