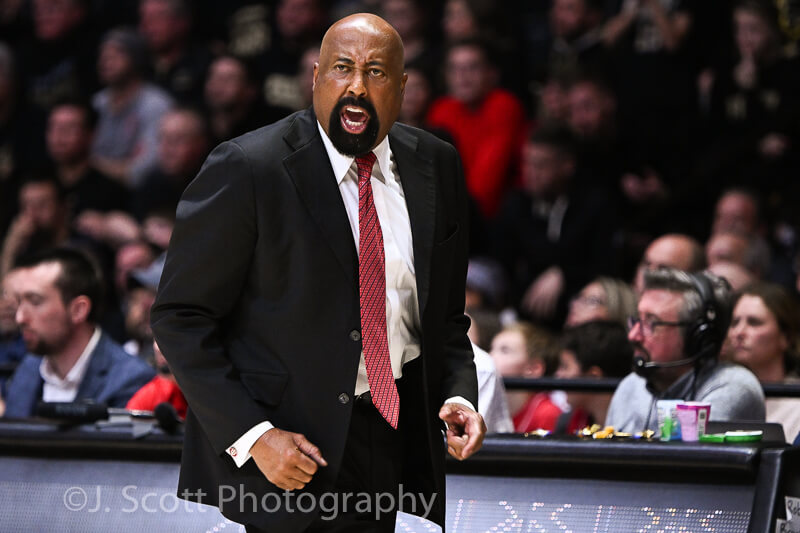 Indiana will hold its annual media day on Wednesday for its men's and women's basketball programs.
The women are coming off of Big Ten championship season while the men will attempt to replace Trayce Jackson-Davis, Jalen Hood-Schifino and several other key departures.
Here are five thoughts on Indiana basketball ahead of Wednesday's media day:
Mike Woodson has stabilized the IU program but now must sustain success
Mike Woodson has not fulfilled his stated goals of winning a Big Ten or national championship in his first two seasons in Bloomington. But it's hard to look at the first two seasons of the Woodson era as anything less than successful.
Woodson inherited a program without an identity or clear direction. He's reached the NCAA tournament twice and recorded a second-place Big Ten finish last winter. That's progress for a program that was nowhere close to March Madness in Archie Miller's final season.
But the next step for IU basketball under Woodson will be the most difficult.
To continue showing progress in an era of college basketball where rebuilding is not an option due to the transfer portal, Indiana needs to solidify the baseline expectation for the program moving forward. An NCAA tournament appearance should be the minimum. As should a top-half finish in the Big Ten standings.
If the Hoosiers reach the NCAA tournament this season, it will be the first time IU basketball has reached the tournament in three consecutive seasons in 20 years. The pieces are in place to get it done. Despite losing an All-American, a first-round NBA draft pick and several others, there is NCAA tournament talent on the roster. Now it's up to Woodson and the coaching staff to deliver results for a third straight season.
What Teri Moren has built is a remarkable story
As Teri Moren prepares for her 10th season as the women's basketball coach in Bloomington, it's appropriate to recognize how far the program has come in the last decade.
Before Moren's arrival, the women's program hadn't reached the NCAA tournament since 2002. Under Moren, the Hoosiers have been there five times, including the last three seasons.
Had the 2020 tournament not been canceled, the program would be coming off of five consecutive NCAA tournament appearances.
The players come and go – and there have been several standouts – but Moren has built a program built for long-term success. She'll become the program's all-time winningest coach this season, has earned a significant pay raise, and the program is filling more seats each season in Assembly Hall.
This season, Indiana will again compete near the top of the Big Ten with a strong returning nucleus that includes Mackenzie Holmes, Sydney Parrish, Chloe Moore-McNeil and Sara Scalia.
Indiana's guard depth is a question mark
Indiana added several pieces last spring that will play major roles this season.
Freshman Mackenzie Mgbako arrives as a top 10 national recruit, the highest-ranked prospect to select the Hoosiers since Romeo Langford. Transfers Kel'el Ware, Anthony Walker and Payton Sparks will all play a role in a revamped frontcourt rotation.
But what the Hoosiers didn't add – another guard – is most concerning as practice begins this month.
Indiana returns Xavier Johnson and Trey Galloway but needs proven contributors beyond that duo.
CJ Gunn shot just 2-for-24 on 3s last season, Anthony Leal has rarely seen the floor under Woodson and Gabe Cupps is a freshman who will need time to acclimate in the Big Ten. And Jakai Newton is recovering from surgery that has put his availability in doubt this season.
The Hoosiers tried to land an impact guard in the spring but struck out. That puts a lot of pressure on Johnson and Galloway to raise their level of play. Gunn is the strongest candidate to take a step forward this season and Indiana needs him to do so.
There's intrigue about Indiana's style of play without Jackson-Davis
Success in the last two seasons was built on the excellence of Jackson-Davis, who is now entering his rookie season with the Golden State Warriors.
Woodson will now have to adjust to life without Jackson-Davis and figure out how he wants to play offensively without a clear go-to option.
The Hoosiers haven't taken enough 3s in recent seasons but don't have the personnel to change that fact this winter. Indiana's top three 3-point shooters in terms of makes last season – Hood-Schifino, Tamar Bates and Miller Kopp – are all gone.
The ball will be in Johnson's hands, and the balance he must strike is pivotal to success. Indiana will need Johnson to score, but he must also create scoring opportunities for others.
The wild card, of course, is Mgbako.
He's a three-level scorer who created his shot regularly as a McDonald's All-American. If the scoring from Mgbako translates from day one, it should open up the floor for Malik Reneau, Ware, Johnson and Galloway and create a more balanced scoring attack.
Make it a point to watch Holmes in her final season
Replacing Grace Berger is a challenge for Moren and the women's program. She was one of the best players in the program's history and just completed a successful rookie season in the WNBA with the Indiana Fever.
But even without Berger, expectations are sky-high again. And Holmes is a primary reason for that.
Now in her fifth season of college basketball, she's one of the top players in the sport. And her approach to the game is business-like. There's no flash with Holmes, but there's plenty of production.
She was a first-team All-American last season with averages of 22.3 points, 7.3 rebounds and 1.9 blocks per game. Her decision to return for a fifth season places Indiana back in the mix to compete for a Big Ten championship and a high seed in the NCAA tournament.
If you have yet to have a chance to watch Holmes in person over her first four seasons, make it a point to do so this winter.
Filed to: Mike Woodson, Teri Moren