Los Angeles: Detectives from the Los Angeles Police Department's Commercial Crimes Division, Organize Crime Retail Taskforce (ORCT), are seeking the public's assistance in identifying the suspects involved in a grand theft incident in which a flash mob took $12,000 in merchandise.
On November 19, 2023, around 5:50 p.m., 17 suspects arrived in five vehicles at a shopping center located in the 9800 block of South Alameda Street. The suspects, whose faces were concealed by medical masks or other material ran into a retail store with trash bags in hand. They placed clothing and boxes of shoes in the trash bags and fled from the location without paying for the merchandise.
The suspects are described as four females and 13 males, Black, ranging in age from 15 to 20-years-old. One of the suspects was wearing a distinct hooded sweatshirt that had a logo of a bonsai tree and the words, "Ritual of the Spirit." The suspect's vehicles were described as a tan Infiniti four-door, a gray KIA SUV, a white Honda, a KIA four-door, and a black Audi.
Video of the Flash Mob taking merchandise can be seen on Commercial Crimes Division social media account: YouTube "LAPD Commercial Crimes Division;" Twitter @LAPD_CCCD," and Instagram "@LAPD_CCD."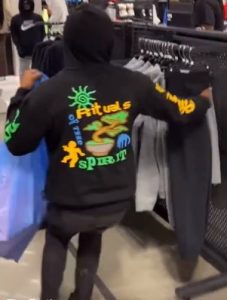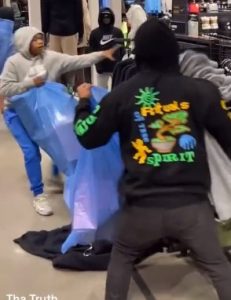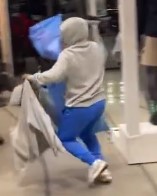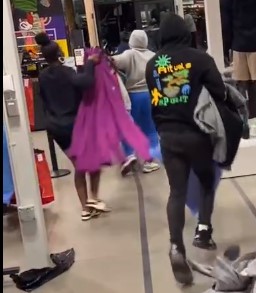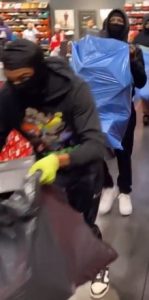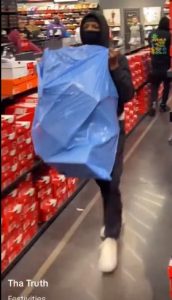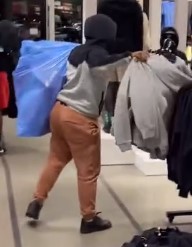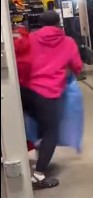 Anyone with information is asked to call ORCT Detective Juan Campos, 213-486-6958 or email 31480@LAPD.Online. During non-business hours or on weekends, calls should be directed to 1-877-LAPD-24-7 (1-877-527-3247). Anyone wishing to remain anonymous should call the L.A. Regional Crime Stoppers at 1-800-222-TIPS (800-222-8477) or go directly to www.lacrimestoppers.org. Tipsters may also visit www.lapdonline.org and click on "Anonymous Web Tips" under the "Get Involved-Crime Stoppers" menu to submit an online tip. Lastly, tipsters may also download the "P3 Tips" mobile application and select the L.A. Regional Crime Stoppers as their local program.