Apple's latest operating system for iPhones and iPads is now official. Available for a wide range of devices, the new iOS 17 and iPadOS 17 further elevate the user experience by refining existing features and introducing new capabilities to iPhones and iPads.
If you have an older iPhone or an iPad, you might want to follow these steps to ensure a smooth iOS 17 or iPadOS 17 installation process. As these updates are over 6 GB in size, make sure that your Apple device has at least 20 GB of free internal storage before initialising the update process. If not, make sure to upload your content to iCloud to free up internal storage.
Next, make sure your device has at least 60 to 70 per cent battery and is connected to a high-speed Wi-Fi or a 5G network with good network reception.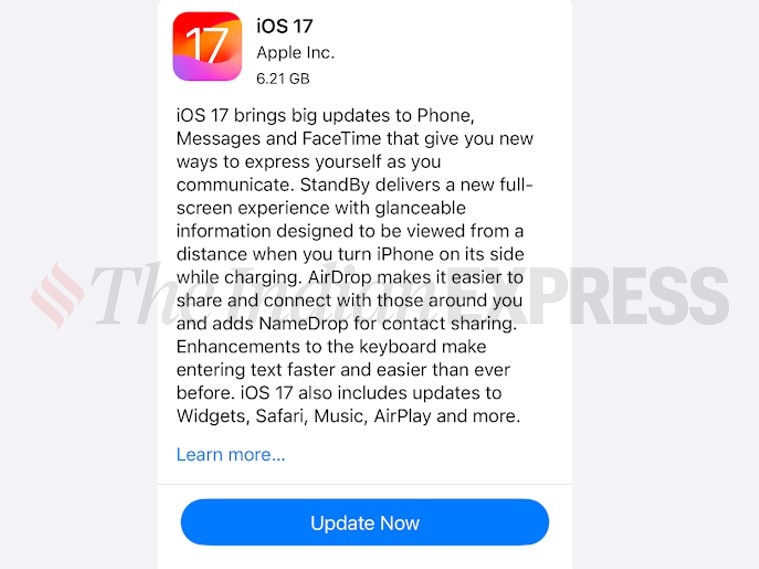 iOS 17 update is around 6 GB in size (Image credit: Vivek Umashankar/The Indian Express)
To initiate the iOS 17 or iPadOS 17 installation on your iPhone or iPad, follow the below steps:
Go to Settings > General >Software Update and you should see an option to download iOS 17 or iPadOS 17.
Click on Update now and accept the terms and conditions to begin the installation process.
Depending on the device and the internet speed, the update process might take anywhere between 15 minutes to half an hour. Once installed, you need to authenticate your device with the passcode to start using it.
Once your device has been updated with the latest OS, make sure to update all the apps from the App Store for a seamless user experience.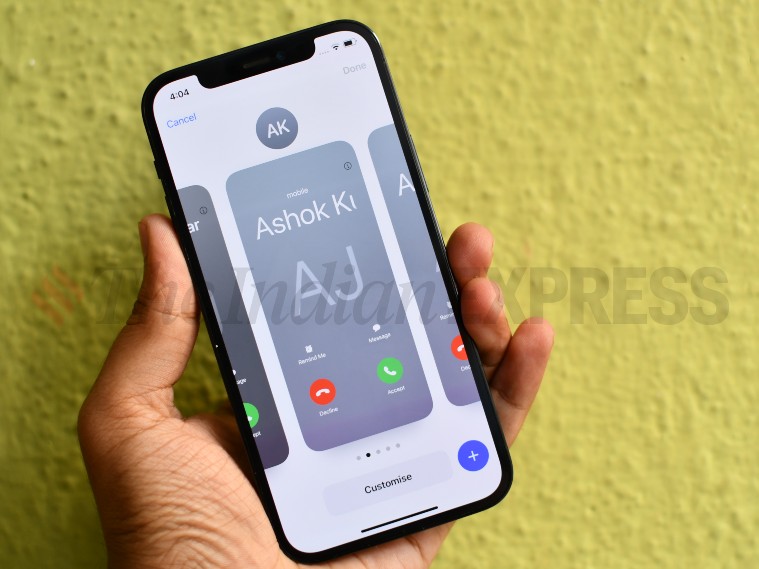 Contact Poster lets you customise contacts with full screen pictures and memojis (Image credit: Vivek Umashankar/The Indian Express)
iOS 17 new features
iOS 17, despite retaining the visual identity of its predecessor, has introduced features like StandBy mode, a unique take on always-on-display that even works with third-party apps like Zomato, which transforms an iPhone into a digital clock while charging. Similarly, the update also encompasses other prominent features like NameDrop with fancy new animation, a new and easy way to share your contact with fellow iPhone and Apple Watch users.
Even in terms of core functionality, iOS 17 has added features like enhanced iMessage with support for sticker creation, and even FaceTime has gained capabilities like sending video or audio messages, and reacting with your hand to add confetti to the background.
The keyboard app has also gotten quite a few upgrades, including enhanced auto-correct and predictions in line. iOS 17 update also adds offline navigation capabilities to Apple Maps and there is also a new health app with upgraded UI.
List of iPhones eligible for iOS 17 update
iPhone Xr
iPhone Xs
iPhone Xs Max
iPhone 11
iPhone 11 Pro
iPhone 11 Pro Max
iPhone SE (2nd Gen)
iPhone 12 Mini
iPhone 12
iPhone 12 Pro
iPhone 12 Pro Max
iPhone 13 Mini
iPhone 13
iPhone 13 Pro
iPhone 13 Pro Max
iPhone SE (3rd Gen)
iPhone 14
iPhone 14 Plus
iPhone 14 Pro
iPhone 14 Pro Max
iPhone 15
iPhone 15 Plus
iPhone 15 Pro
iPhone 15 Pro Max
New iPadOS 17 offers a personalised lock screen & widgets. The latest update brings some spectacular abilities to the iPad. (Image: Apple)
iPadOS 17 new features
iPadOS 17 on the other hand also gains quite a few new features including the lock screen customisation option, which was originally introduced with the iOS 16 update for iPhones. The update also adds a new health app, designed for big-screen iPads along with support for interactive widgets and widget stacking.
Stage Manager on iPadOS 17 (features) is better than ever with support for more flexible layouts, allowing users to use an iPad like a Mac with resizable windows and enhanced multi-tasking capabilities.
List of iPads eligible for iPadOS 17 update
iPad Pro 12.9-inch (2nd generation and later)
iPad Pro 10.5-inch
iPad Pro 11-inch (1st generation and later)
iPad Air (3rd generation and later)
iPad (6th generation and later)
iPad mini (5th generation and later)