One minute you rely on your shower for relaxation, to soothe muscles or melt the day's stress away, the next, for rejuvenation and a cool and invigorating rinse. Ultimately, it's hard to argue the self-care benefits a good shower can provide. And of course, its utilitarian role, too—hygienically speaking.
Showerheads are the unsung heroes of the bathroom. In all likelihood, you don't realize how ineffective your showerhead is until you experience what you've been missing. 
Whether you're considering an upgrade, embarking on a bathroom reno, building new, or looking to create a luxurious five-star in-home spa experience, the experts at Splashes Bath & Kitchen can help you navigate the wide variety of shower fixtures and product options.
"When you come into our showroom for shower fixtures, one of our consultants will ask about your shower goals, so they can understand if you're open to exploring new shower items, or if you require a specific fixture to fit within the constraints of your current setup," says Andrew Silbernagel, marketing manager.  
"There's also an array of things to consider like, the size of your space, pressure, water use, accessibility, and your budget, which are all things you can discuss with our experts."
Showerhead types
Fixed single-head spray showerheads are wall-mounted and can be basic, no frills, or multi-functional that change spray patterns, which usually range from a concentrated massage to a gentle wide-spray setting.
Dual and multiple showerheads provide the best of both worlds. They combine the wide coverage of a rain showerhead with the flexibility of a hand-held, using an external shower arm diverter. No elaborate plumbing required.
Hand-held showerheads show versatility for performance and functionality. The flexible hose makes it easy to maneuver and detach from the holder so you can more effectively rinse your hair and even clean your shower—your pets, too. The wide range of motion is helpful if you have limited mobility.
Rain showerheads, often 8 to 12 inches, capture the luxe hotel experience, where soothing droplets with a soft water flow mimics the feel of rain. "It's a misconception that the bigger the showerhead the less pressure," says Silbernagel.  
"Look to Kohler's Statement showering collection paired with Anthem valves and controls, which enables complete command over temperature, volume, and spray, and features unexpected designs and indulgent spray options."
"Also check out the Kalia collection, with RoundOne and SquareOne rainheads and hand-held showerheads."
Under pressure
Tired of the dribble? Most eco showers are designed to run on high-pressure systems. A good water-saving showerhead delivers the feel of full-volume water while mitigating water costs. "These days, good water pressure doesn't mean it's less powerful," reveals Silbernagel. "It comes down to style and shape, and the pressure of your home system, which plays an important role."
Low-flow high efficiency showerheads can reduce water consumption. A flow aerator (water-conservation device) makes efficient use of the water flowing through the showerhead, typically mixing air into the water stream, conserving water and energy by as much as 50%.
Spa-worthy experience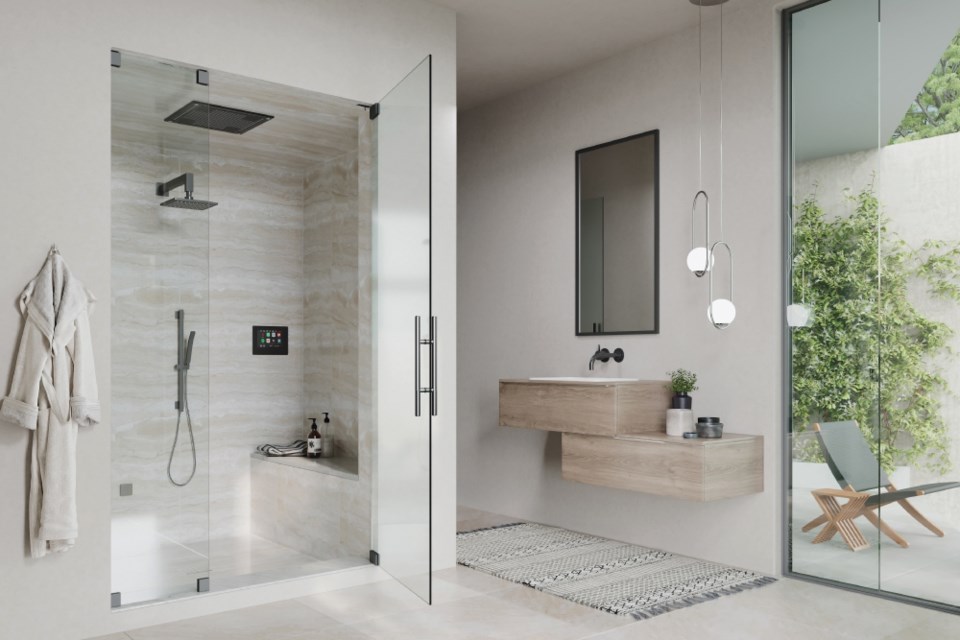 If you're routinely off to your health club/gym, mainly to sit in the steam room, it could be time to create your own. An in-home steam is the ultimate in health and wellness, with pore-opening heat that relaxes both the muscles and the mind.
"Steam showers are a growing trend, with high-tech models leading the way," says Silbernagel. "We carry ThermaSol steam and showering systems, where innovative technologies combine to create a personalized experience.
"It's available with or without aromatherapy (essential oils) and chromatherapy (colour therapy). You can customize your daily wellness routine with the ThermaTouch in-shower smart-touchscreen to control the timer, flow, and temperature, and you can play your music from Bluetooth devices and downloadable apps."
Chromatherapy incorporates 18 ultra-high-intensity LEDs in your shower cycle, revealing tranquil or invigorating colour shades to balance energy levels. 
For a totally immersive steam shower experience, tranquility scenes integrate nine pre-programmed natural sounds, lighting and visualization scenes, ranging from a bubbling, mountain stream to a gentle, crackling fireplace.
"While it's nice to make considerations beforehand, it's not necessary," says Silbernagel. "Our experts will guide you through all the decision processes—even if you haven't thought about them yet."
For more information, visit store.splashesonline.com.