Tennis has been one of the most popular sports in the world for decades. It has an enormous fan base all over the globe and offers an array of possibilities for bettors.
It has never hit the popularity of baseball or basketball in the United States, but the game itself gave birth to many American superstars such as the Williams sisters, Pete Sampras, Andre Agassi, Bill Tilden, Billie Jean King, John McEnroe, and many others.
When you add how straightforward it is to wager on tennis matches, the sport is ideal for sports betting. More experienced punters also have plenty of room to seek an advantage in wagering on tennis through different sports betting strategies.
That tennis betting can be simple and complex at the same time is what separates it from other sports. We have witnessed so many shocking comebacks throughout history — meaning your bet will be alive all until the very last point in the match in most cases (unless you back Under for totals or a specific game's handicap — more on the specific betting types below).
BetRivers Sports Special Signup Offer
100% first bet refund up to $500!
Quality welcome offer
Engaging & versatile promotions
Good odds across the board
Please play responsibly. If you or someone you know has a gambling problem and wants help, call 1-800 GAMBLER.
How to Bet on Tennis
The fundamental difference between tennis and your usual ball games is the fact there is no draw in this sport. You have two players battling for a win in the match with only two possible outcomes. Much like in other sports, sportsbooks in the US offer a plethora of additional markets to allow you to place reasonable wagers on every match on the menu.
However, the most popular tennis betting markets are identical to those offered for other sports, including moneylines, spread betting, and totals betting.
Moneyline Tennis Betting
This is the simplest betting market where you predict the winner of a tennis match between the two players. The favorites will have a minus sign in front of their odds number, while the underdogs will carry a plus sign, just like in this example:
Novak Djokovic -150
Rafael Nadal +130
You need to bet $150 to win $100 if you fancy Djokovic, while a $100 bet on Nadal would return a profit of $130 in case of a win for the Spaniard.
Spread Bets
Sportsbooks use spreads to level the playing field by setting handicaps in all sports, and tennis is not an exception. In tennis, handicaps for games (most common) and sets can be offered.
Carlos Alcaraz -6.5
Stefanos Tsitsipas +6.5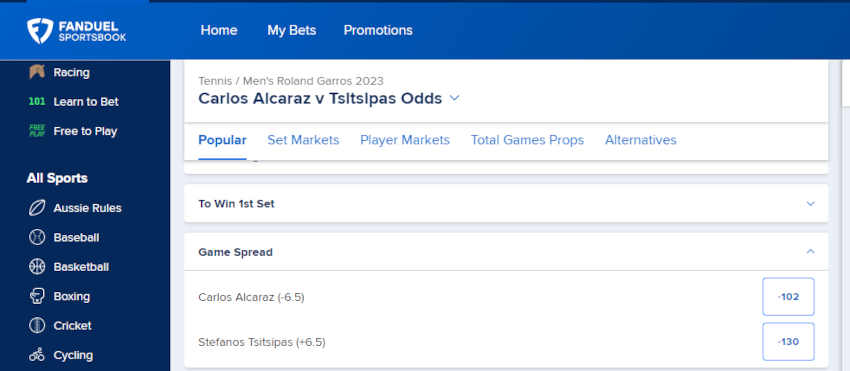 Carlos Alcaraz is favored to beat Stefanos Tsitsipas. However, the Spaniard is worth only -500 on moneyline odds. You want to get reasonable odds and, in this case, focus on the spread market.
If you expect a comprehensive victory for Carlos, you can back him to win seven more games in the match than Stefanos. If you believe the Greek can offer solid resistance or even pull off an upset, you will back Tsitsipas to either win more games than Alcaraz or lose by a margin of fewer than seven games.
With this type of betting, being aware of the tournament is very important. If it is a Grand Slam men's event (like in our example), it is going to be a best-of-five match, requiring more stamina than other ATP tournaments.
Most tournaments (all in women's tennis) have the best-of-three matches, meaning the spread lines for games are usually lower. The odds are usually even for both options but can slightly lean toward one over the other, just like in the example from above, where we have Alcaraz (-6.5) at -102 and Tsitsipas (+6.5) at -130.
You also have set spreads. These are set at -1.5 for most matches but can also be at -2.5 for men's Grand Slam events. The principle is identical to the game's spread. The difference is that here you count sets instead of games for your handicap.
Betting Totals in Tennis
In other sports, you usually bet on the number of points scored in a game for this market. In tennis, the totals primarily refer to the number of games in a match. The books also allow you to bet on total sets (less common market).
In tennis, there is a much bigger connection between spread and totals because, in most cases, you are looking at a similar outcome. If you expect a close match, you will bet the Over, and if you believe one player will be dominant over the other, go for the Under.
We will take the match between Elina Svitolina and Aryna Sabalenka as an example. Here are the options for totals: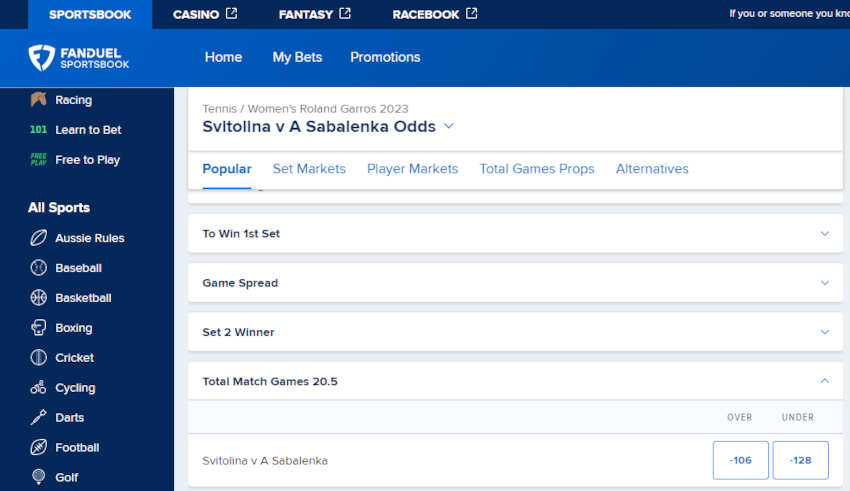 If the two players combine for over 20 games in a match, the Over is the winning option, and vice versa. You need to do your math before placing a wager on this market.
If the match finishes in a 6-4 6-4 win for one player, the Under pick wins. Similarly, if it goes to three sets, it will go in the Over in most cases (unless it ends in a 6-0 0-6 6-2 scoreline). It can also go in the Over with a 7-6 6-2 scoreline, for example.
Futures Betting in Tennis
There are many exciting futures bets in tennis. This market is available for all Grand Slam and ATP/WTA events (Challengers, not so much) with most sportsbooks in the US.
The betting operators will offer odds for different betting options as soon as the draw comes in (for Grand Slams, even way before). The most popular one is the tournament winner. You pick the player you expect to win a certain tournament. Here is how the standard odds look for the US Open 2023 outright winner:
Novak Djokovic +125
Carlos Alcaraz +220
Daniil Medvedev +240
Nick Kyrgios +750
Jannik Sinner +850
Stefanos Tsitsipas +1400
Alexander Zverev +1400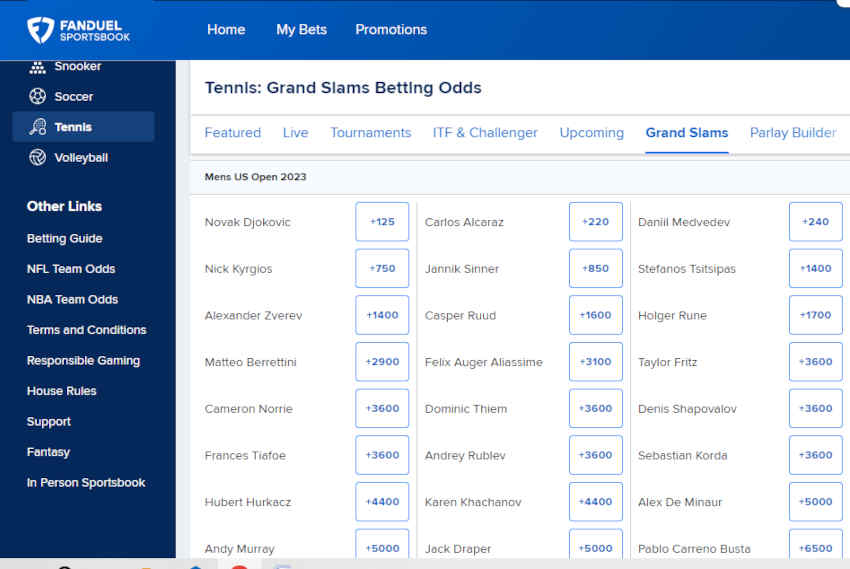 Other variants are available, such as the stage of elimination or the winner of each half or quarter of the draw. It is also important to mention that you can bet on futures even after the start of the tournament, as the sportsbooks will offer adjusted odds and markets throughout the event.
Tennis Prop Bets
Finally, tennis betting also offers a broad variety of exciting propositional markets, including some of the following:
First Set Winner
First Set Total Games
Match, and Both Players Win a Set
Player to Win a Set
Player to Win from Behind
Player to Win in Straight Sets
First Game Score (Rune to love, to 15, to 30, to 40, or break)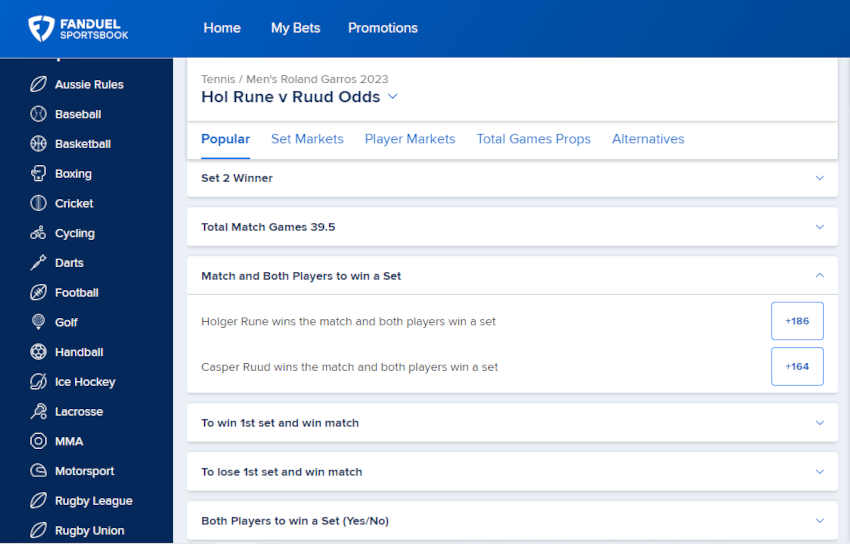 Events Available for Betting
The range of matches and tournaments available for betting has never been larger. This means you can bet on tennis throughout the year, with December probably being the slowest month for this purpose.
To show how rich the tennis betting portfolio is, any week in May has over 15 distinct competitions on the menu for sports bettors. These include the most famous Roland Garros, Challenger tournaments in Heilbronn, Prostejov, Tyler, and Surbiton, as well as bountiful ITF Futures (the lowest category), such as those in Luzhou or Poertschach.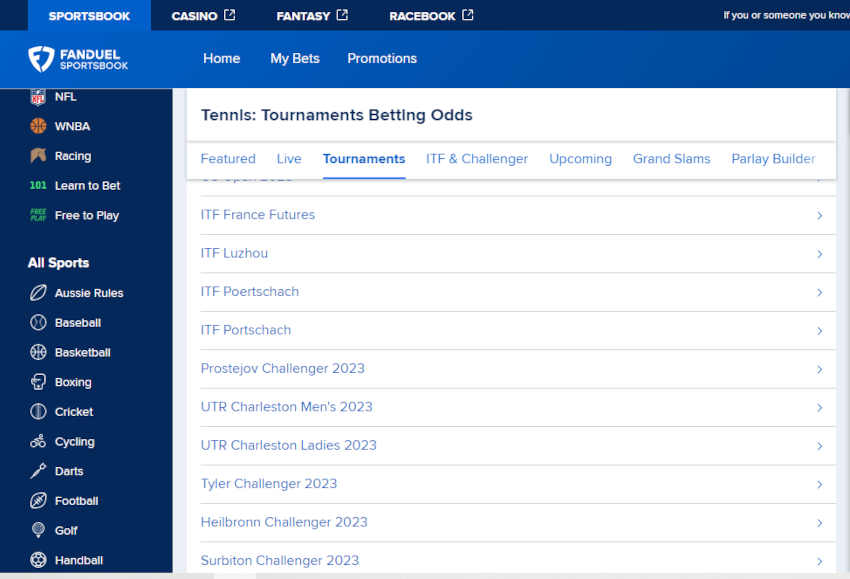 Special Signup Offer
First Bet Offer up to $1000!*
Enjoy live streaming of popular events
Great mobile betting experience
Variety of betting markets on offer
*except PA & NY
Please play responsibly. If you or someone you know has a gambling problem and wants help, call 1-800 GAMBLER.
Essential Tennis Betting Strategies and Tips
Last but not least, we will share some tips and tricks you will surely find useful for your future tennis wagers. Info and stats have never been more accessible, increasing your chances of making some cash with the proper tennis betting strategies and tips.
Follow the News and Social Media
Tennis is an individual sport, meaning the mental aspect plays a much bigger role than for other sports. Players can get upset after a shocking defeat to the lower-ranked opponent, they can feel sick just before the start of the match and share it on Instagram, or be more motivated to do well at certain tournaments (mainly in front of the home crowd), etc. These are all situational edges worth taking advantage of.
Then you have the players like Nick Kyrgios, Benoit Paire, or Alexander Bublik, who can beat any rival but can also randomly lose to the 250th player in the world.
Scheduling is another big factor. A player who won a couple of qualification rounds has the opportunity to feel the courts and play several matches before facing a rival who has just arrived.
It is all about finding these soft spots that sportsbooks can hardly recognize via their odds (especially for lower-ranked tournaments).
Know the Surface
Successful sports bettors should also be as familiar with a certain event to be able to make the right calls and place the right bets in tennis. In other sports, you only have the home-court advantage to consider. There are thousands of courts in tennis, each carrying a different type of surface.
In theory, there are three playing surfaces (hard, grass, and clay), but even these can be divided into many additional categories. Not all hard courts are the same. Some are slower to the extent they can almost be classified as clay courts.
As you probably know, only a few players on the planet can play equally well on all surfaces. You need to consider these factors in search of an advantage.
For example, the first serve percentage and points won on the first and second serve are by far more useful statistical parameters in a match played on a grass court.
Understand Playing Styles & Matchups
Finally, the head-to-head record is something you should always pay close attention to. Regardless of recent form on rankings, you can expect a potential upset by looking at the earlier matchups.
Each player has their strengths and weaknesses. Some rivals' playing styles will be suited to exploit these weaknesses, while others will not. This is why we have some very interesting trends in head-to-head history between popular players.