Honda has been slower than many manufacturers to sell battery electric vehicles in the U.S., only recently announcing the 2024 Honda Prologue EV. In an interesting but somewhat bewildering twist, Honda has introduced a second vehicle to the EV arena, an electric scooter. The Honda Motocompacto is a collapsible ride-on electric scooter you can order online today for $995. The orders will be fulfilled at select Honda and Acura dealers beginning in 2024.
If you first see Honda's new e-mobility device on the street, you might wonder if someone put a motor in a folded card table. If you ride one, you'll notice that there are no pedals. Despite first appearances, the Motocompacto isn't an e-bicycle; it's an e-scooter. The foot pegs are there to give you a place to rest your feet, not to propel the scooter.
According to Honda, the Motocompacto has a top speed of 15 mph and a range of up to 12 miles per battery charge. The electric scooter has a front-wheel electric motor and a 265-pound carrying capacity, which includes a single passenger and anything they wear and carry. The battery fully recharges in 3.5 hours with an included charger.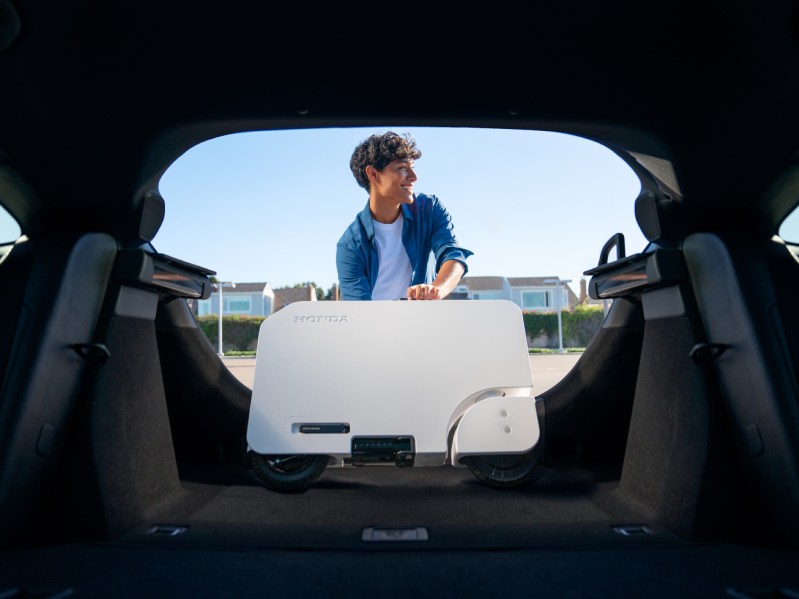 Honda's electric scooter is designed for easy storage
At 41.3 pounds, including the standard charger, the Motocompacto is heavier than most stand-up or sit-down electric scooters with similar performance. Some of the weight is due to the scooter's shell-like form factor. So, while you might not be able to claim that riding the Motocompacto is exercise, carrying it any distance could qualify as a workout.
The Motocompacto's unusual appearance is its most remarkable element, but the scooter's ability to fold or tuck in its peripheral components for easy storage is a solid second eye-opener. The back wheel, footrests, and kickstand all tuck into the e-scooter superstructure. The handlebar folds twice to rest inside the body. The last step is to remove the seat post, fold the seat, and tuck it into the body. The clever design lets you roll the folded scooter on both wheels, so you'll only need to lift and carry on stairs or curbs.
With everything collapsed, folded, and tucked, the Motocompacto's case measures 29.2 inches long by 21.1 inches high by 3.7 inches wide. That's small enough to fit under, if not beside, most desks without attracting attention. If you want to use the Motocompacto for last-mile transportation, it should easily fit in the back of most cars and subcompact SUVs.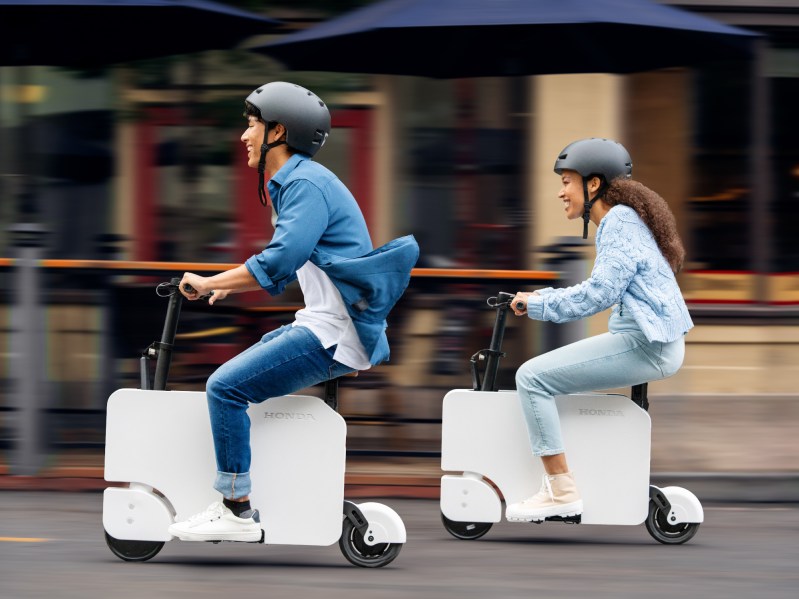 The Motocompacto is a different take on e-mobility, and at first, it may seem too expensive for its performance specs. On the other hand, the Motocompacto's clever design features and apparent component quality could argue that it's underpriced at $995. Overall, it seems the price is about right compared to other e-scooters.
Since the "You meet the nicest people on a Honda" 1963 ad campaign that invited American consumers to stop thinking all motorcycle riders were outlaws, the company has shown keen regard for customer preferences. It might not make sense for Honda Powersports dealers to sell Motocompacto e-scooters next to Honda Goldwing touring motorcycles or Honda Africa Twin adventure bikes. However, delivering a suitcase scooter e-mobility alternative via Honda and Acura car dealers seems appropriate for a company making the point that it is indeed on the EV bandwagon.
Editors' Recommendations