Apple's AirPods Pro is hands down one of the best wireless earbuds that money can buy right now. However, all this could change in early 2024, when xMEMS Labs will unveil a revolutionary ultrasonic speaker called Cypress. This could finally replace almost a century-old coil, magnet, and membrane-based speaker technology.
xMEMS (microelectromechanical systems) will unveil its latest revolutionary Cypress ultrasonic solid state (no moving parts) speaker technology at the upcoming CES 2024 tech show. Cypress is said to be capable of producing 140dB full-range audio, and will primarily be designed for personal audio devices like wireless earbuds, smart glasses, and headphones. Reportedly, the product has been designed with over 25 patented technologies.
Made using a single piece of silicon, it is also known as monolithic MEMS speakers and is manufactured similarly to a mobile or laptop chip. In fact, the company has partnered with TSMC, the company that manufactures various Apple chips, including the newly announced Apple Silicon M3, M3 Pro, and M3 Max.
As these ultrasonic speakers are manufactured like a mobile chip, they will have micro-level precision and are also easy to scale when it comes to mass production. Compared to coiled speakers, which are assembled in a factory, the Cypress – manufactured in a fab – will have a higher level of uniformity and repeatability. On top of that, they use a piezo material instead of plastic, paper, or carbon fibre and can offer a faster mechanical response.
The Cypress ultrasonic MEMS speaker is designed in such a way that both actuation and diaphragm have been incorporated into a single unit resulting in the world's fastest and precise micro speakers for devices like TWS earbuds. This means, one can expect to see a premium set of features such as high-resolution lossless audio, Spatial Audio, Dolby Atmos, and active noise cancellation mode, which are usually seen on high-end earbuds like the AirPods Pro or the Galaxy Buds2 Pro.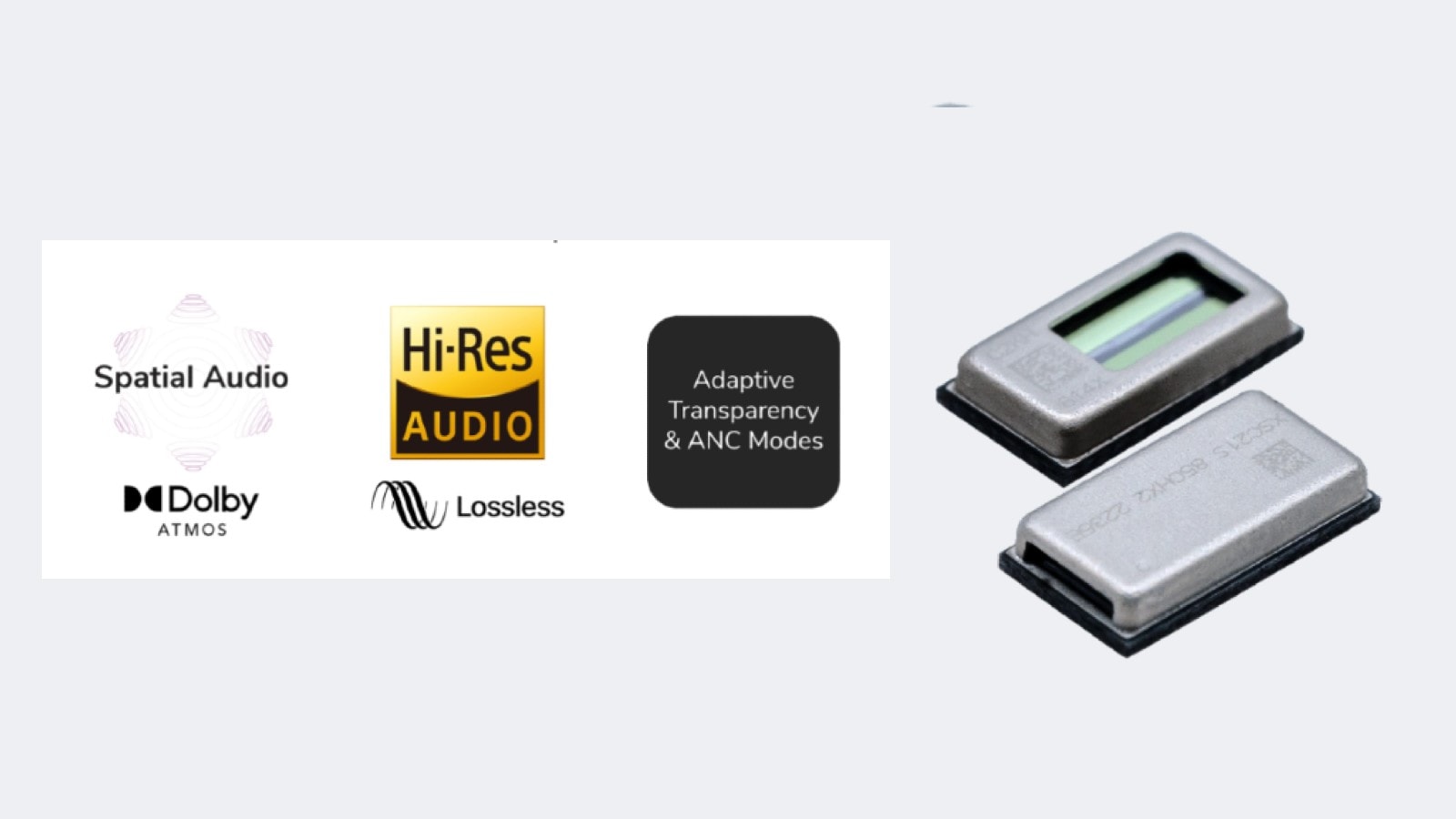 Various features supported by Cypress (Image credit: xMEMS)
Wondering what makes it work?
According to the company, "ultrasonic modulation turns ultrasonic air pulses into rich, detailed, bass-heavy, high-fidelity sound, representing the first no-compromise alternative to the moving-coil concept for high-volume consumer active noise cancelling (ANC) earbud micro speakers."
When compared to the existing technology, the Cypress ultrasonic MEMS speaker has several advantages like 1-degree spatial accuracy and separation, the fastest transient response, and enhanced audio clarity.
According to Mike Housholder, xMEMS' Vice President of marketing, business development, and systems engineering, "Cypress maintains all of the benefits of xMEMS' existing speakers, while being 40 times louder in low frequencies, achieving a key requirement for ANC earbuds," and can offer audio output that is similar to a 10 to 12 mm coiled speakers used on premium earbuds.
Due to its faster electrical-to-acoustic conversion speed, the Cypress speaker could even help to enhance the active noise cancellation range and it will also offer lower DPS latency, which reduces power consumption, which will result in enhanced battery life.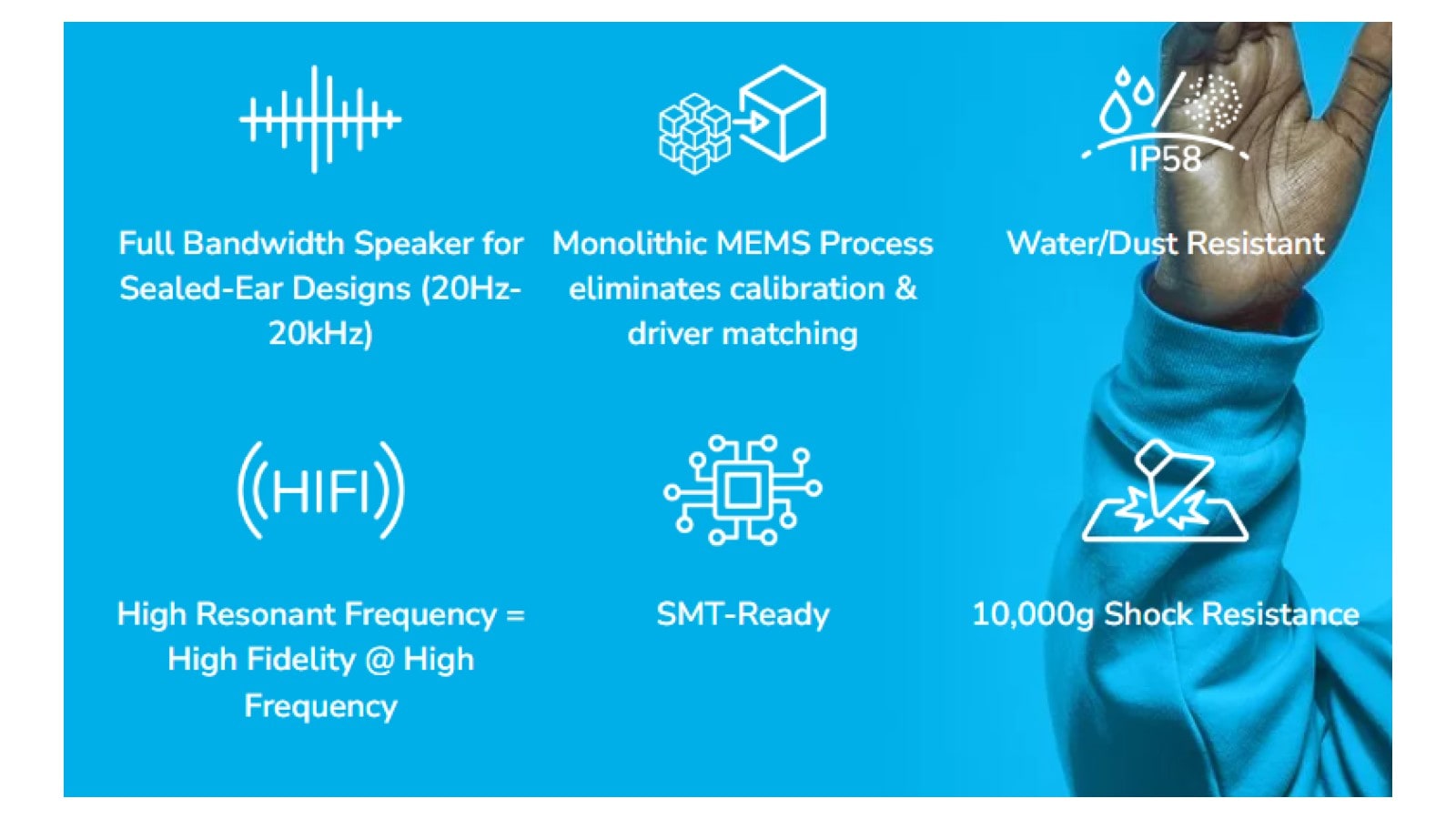 Cypress can also product high-resolution audio (Image credit: xMEMS)
Detailed audio experience
An earbud equipped with the Cypress speaker can produce full-range audio (20Hz-20kHz), water and dust resistance (IP58), and shock resistance. Coming to the high-resolution audio, Cypress can offer a more detailed and exact replica of the audio and as it is a non-magnetic product it will be lighter in weight and will have lower electromagnetic interference. And due to its smaller footprints, brands can also reduce the footprint of the earbuds and can make them even smaller and these are also said to last longer than a coiled speaker.
xMEMS even highlights that Cypress is also a cost-effective solution and can compete against the coiled speakers found on mass-market products like AirPods.
Brands like Soranik, Creative, and Singularity Industries already have products based on previous-generation xMEMS ultrasonic speakers. However, the latest Cypress is a massive improvement over its predecessor, as it does not require an additional component to produce the lower end (bass) of the audio spectrum.
It is interesting to see which big brands are the first to get on to the ultrasonic speaker bandwagon.